Words And Images | Peter Chaffin
While with the end of the previous financial year new equipment has been made available to the Training For Trees students, we start off the new tax year with the graduation of the very first apprentice under the latest trade level AHC30816 Certificate III in Arboriculture training package.
---
We have been busy working with our Certificate III students and are excited to have been able to congratulate Lee Mc Connell as our first apprentice to graduate under the latest trade level AHC30816 Certificate III in Arboriculture training package. We believe and are very proud to say that Lee is the first student to graduate in this current qualification under an apprenticeship scheme in Australia, having completed face-to-face training and assessment with Training For Trees supported by his employer and demonstrating high levels of competence in all of the required 23 units of competency.
---
"If you want to have reliable professional staff you have to be prepared to train them."
---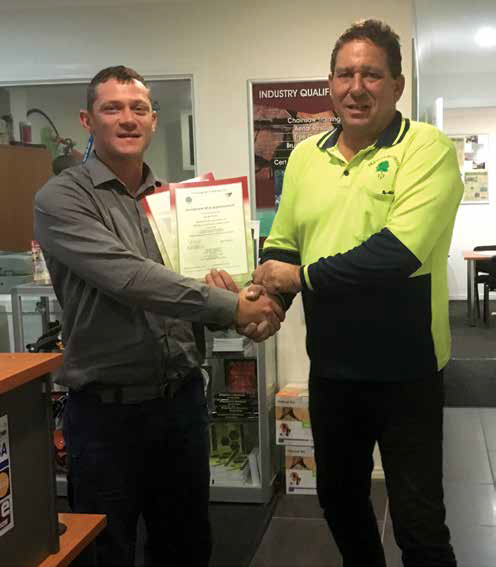 More excitement ahead for us as we begin a new tax year. Somehow, we did it again and got the "minister of finance" to allow us to purchase some new 'toys'. Of course, all the money had to be spent by the end of June, which was not a problem. All purchases are being put to good
use to benefit students currently enrolled within our Certificate III Diploma and short courses. There are currently three options to choose from to become qualified in arboriculture at trade level under the AHC30816 Certificate III in Arboriculture:
Option 1: Ground-based,non climbing, non aerial, qualified arborist
Option 2: EWP-based qualified arborist
Option 3: Climbing-based qualified arborist
We are finding that, having the option for a student to choose a particular specialisation stream relative to the individual's choice of direction within the industry, this trade level
qualification is now achievable by a far wider group of individuals. Options for employers are far greater than under the previous versions of certificate III and particularly some of the early pre AHC versions which had, in our opinion, too many options for completion could be misleading due to being based around a lot of horticultural options and often did not clearly define a candidate's ability. Employers take note that if you are checking the qualifications of existing or potential staff members from 2016 onwards, the certificate will state which particular stream the candidate has achieved, so that you will be able to see exactly what level they are qualified to, which will assist with making employment decisions.
At TFT we believe that the latest arboricultural qualifications offer a challenging process both in their delivery and in the journey required to achieve their outcomes but the outcomes far outweigh the challenges and are producing well rounded graduates that are well trained and able to offer a high level of skill back to their respective employers in the workplace. We are also extremely proud that several of our past Certificate III students are now undertaking the Diploma in Arboriculture that we commenced delivery of late last year. Some of them have also enrolled and are currently supporting and mentoring their own staff as apprentices in the Certificate III, which is awesome. Thanks guys.
The process we at TFT have been suggesting for several years now is proving to be so true regarding the almost everyday question we get from employers which is:
---
"How do I get a new climber or a new consulting arborist to join my operation"?
---
They don't grow on trees unfortunately, but if you want to have reliable professional staff you have to be prepared to train them and that takes an investment both financially and in time and effort, requiring amongst other things large amounts of support tolerance, patience understanding etc…!
One of the best sources for new staff often comes from within your company, when a current employee is encouraged and supported to step up to the plate and develop new skills while to some extent learning on the job and earning their keep at the same time. When this process is coupled with the journey through the Certificate III or the Diploma qualification, and the employer works with the training organisation, the outcome is usually impressive.
The journey that is undertaken to achieve a qualification is a process that requires the student to have an attendance in class, attention to detail, passion and commitment with a willingness to work hard and submit homework and assignment projects within the required time limits.
Our successful graduates are in high demand by industry and so far all seem to be gaining full time employment or starting up on their own and doing very well for themselves.
---
At TFT we believe the message is finally getting through regarding the importance of training and qualification
and the benefits that it can bring to everyone including the trees.
---
What do I need to do to become an arborist?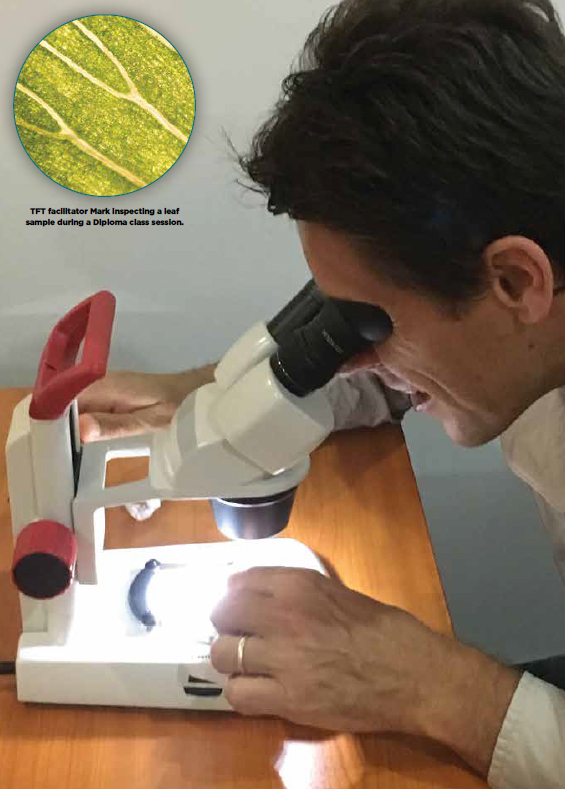 Our advice regarding entering into the arboricultural profession is to enrol in the course that best suits your needs, then commit to invest as much time learning the processes and procedures of the job as possible, ask lots of questions and make an effort to learn some tree names. Make an effort to take ownership of your learning both at work and in your
own time. Even when you are dragging branches to the chipper you could be learning about trees. How do they smell? How heavy is the wood? Do you get splinters in your hands? What colour is the timber? Are there flowers or fruits? Why is the heartwood soft or hollow? What is in the pruning standard AS4373?
At TFT we take our students on a journey through the individual units of competency that collectively make up the qualification with regular face-toface classroom sessions as well as issuing assignments to be completed in the workplace, as well as liaising with employers to ensure their apprentice is meeting their requirements. Employers, you should budget and allow for certain elements of the training to be held off site and also be prepared to mentor your apprentice within the workplace. The partnership between an employer
and their training organisation is extremely beneficial to the student and essential for the successful completion of a qualification. Can you demonstrate evidence of recent staff training or updating within your company?
When did you last organise an aerial rescue practice day? Or audit the pruning standards within your crew? These sorts of sessions are great team builders and also help to promote safety and confidence within your workers Do you have a safety policy that includes safe work method statements, risk assessment and machinery checklists?
Have staff members attended recent courses workshops or verification of competency (VOC) sessions?
Are all qualifications certificates and licences up to date?
Once a unit of competency, full qualification or licence has been attained, attending regular refresher and update days is a good way to ensure that the qualifications are kept up to date with the latest requirements. In some cases this is a mandatory requirement and in most cases is the same as getting a verification of competency or VOC. This is also an
effective way to ensure that any bad habits that may have crept in are identified and rectified with further training recommended and carried out if required. Regular VOC refresher and update training and assessment programs to suit relevant skills as required are offered at Training For Trees.
Tree companies are generally always looking to recruit new skilled staff members and it would seem that particularly climbers are required. Unfortunately these guys don't just grow on trees so, as there is a current shortage of qualified operators, we believe that one of the best ways for a company to ensure a continuity of qualified, efficient staff would be to consider consistently employing at least one apprentice that is new to the industry, enrolling them into the Certificate III in Arboriculture apprenticeship program and take the time to mentor them through their training.
As they progress through their apprenticeship they will begin to repay your investment by becoming more useful and able to operate within your company. By the time they graduate they will go on to become your next climber or crew leader and can maybe start helping to train the next apprentice and so on. If they leave and move on once qualified, then at least you will have had some return on your investment while they were employed with you and the upcoming apprentices will keep the cycle flowing, giving you access to staff that already know your business and systems, providing a return on the investment you have made in them.
Consider your strategy for training and how you can keep your existing qualifications up to date.
---
"Everyone engaged in carrying out work with trees must be trained and qualified in their designated task and strive to maintain and improve their industry currency by continuing to gain relevant experience and qualifications"
---
Training is as important as the servicing of vehicles and machinery, after all, workers are the machinery that you run and need to maintain to enable the smooth operation of your business. It has been proven that independent training and assessment increases staff retention safety awareness productivity and efficiency.
Remember to schedule in regular refresher and update training sessions. To be officially classified as an arborist/ you will need to complete the qualification AHC30816 Certificate III in arboriculture. Funding incentives currently apply to eligible applicants and their employers in QLD.
Safety Rules
Check out your eligibility for funding. Enrol now for the new intake Cert III Arboriculture and Diploma. Now booking Chainsaw courses running regularly (all levels), EWP Licence, First Aid, Working at heights, Chipper, Stump grinder, Polesaw and AC/DC. Contact us for your Qualifications, short courses VOC, RPL and refresher training. Train with us and leaf qualified. See our website www.trainingfortrees.com.au for details or email info@trainingfortrees.com.au