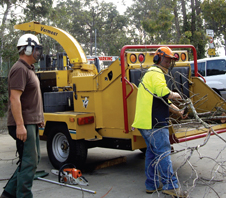 As we approach springtime there's never been a better time to consider how you can keep your qualifications up to date.
Within the current Workplace Health and Safety (WHS) legislation there is a general obligation for persons in the workplace to be competent which requires employers, the self-employed and employed workers to carry out their duties as responsible operators. In order to comply with this requirement, employers and the self-employed should attend regular training and update sessions to maintain and improve their skill levels.
Refreshers help you keep up to date with the latest requirements and are a useful way to ensure any bad habits are identified and rectified with further training.
It is often the case that some of the fundamental areas, such as brushwood chippers, are overlooked when considering training and assessment, whereas everyone gets a basic chainsaw certificate. There is not as much consideration given to training and assessment for chipper operators but these are extremely expensive machines that can be dangerous if in the wrong hands.
If you search for statistics it's not hard to find many horror stories and reports of entrapment and loss of life and limbs due to factors such as entanglement, flying debris, machines left running unsupervised and operation by untrained operators.
Some stories show the lack of importance given to the chipper induction processes. In some cases, a new employee is instructed in the machine's operation over a five-minute review and then put to work, obviously knowing very little regarding safe operation.
Sadly all too often, there are also stories about ropes getting fed into machines. This seems to happen while branches are getting dragged to the machine in the vicinity of the climber's rope or the rigging lines onsite. When fed into the machine the rope winds around the drum or disc and is drawn in faster than the fastest winch ever seen. This has resulted in climbers attached to the other end getting pulled out of trees and ropes pulling tight between two points with the resulting recoil causing severe injuries.
These machines often don't feature in risk assessments or work plans. If they do it is generally in the form of a tick-and-flick checklist that often gets filled out on the way to site.
The early machines were fairly crude, aggressive, noisy beasts that were gravity fed via a steeply-angled feed chute with its entry point about waist height. The operator had to lift each branch to an almost upright position, drop it in and retreat as the knives grabbed and dragged it through at an alarming, uncontrolled rate. These machines earned themselves the nickname "chuck and duck" because that was the operator's only option. There were no feed rollers and if you were daft enough to reach inside the feed chute it was possible to contact the blades.
Thankfully, today's machines have evolved in many ways. There are now standards governing safety features such as proper guarding requirements and a minimum length of feed table and hydraulic feed rollers to draw in the material along with emergency stop bars and many more safety features.
In spite of these facts it is still possible to witness incorrect feeding of the machines, to see operators leaning right into the feed hopper, to hear the strain on the engines caused by overload and to read reports of terrible injuries and deaths caused by misuse and lack of maintenance. Operator training is often overlooked and these machines are often not treated with the respect they deserve.
Below are some key points for guidance in the safe operation of mobile chippers.
---
Preparation
Carry out a risk assessment
Consider traffic management requirements
Set up an exclusion zone around the machine and ensure operators are not at risk from falling debris
Set out signs and barriers for traffic control as necessary
Position the machine on level ground (chock wheels if required)
Ensure the machine is positioned away from steep slopes that may alter the in-feed height thus affecting operation of the safety bar
It's also important to visually inspect the machine for damage:
Check the condition of knives and don't operate if blunt or damaged
Check fuel oil and coolant levels
Check operation of all controls, including emergency stops and safety devices
Ensure all guards and warning decals are in place and readable
Wear the correct PPE: safety boots, non-snag clothing, eye/ear protection, close-fitting gloves, not gauntlets (if necessary) and a dust mask (if necessary)
Select and prepare material to be chipped
Remove any metal stones or foreign objects
Cut awkward branches that may jam the in-feed
Cut large limbs to a manageable length or use mechanical assistance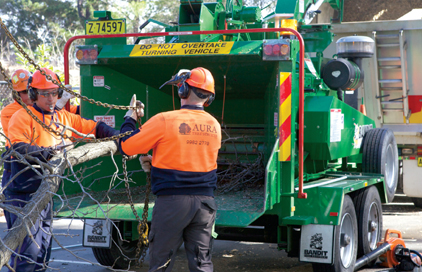 ---
Operation
Only allow trained operators to use the machine.
Keep all ropes a safe distance from the machine, in rope bags
Operate at the correct engine speed
Position discharge correctly and check its security
Only one operator should feed the machine
Organise feeding so that each operator leaves clear for the next
Keep area clear around feed hopper and rake up frequently
Don't stand, or allow anyone else stand, directly behind the machine when operating
Always feed material onto the feed table from the front but while standing to one side
Don't feed material by reaching over the side uprights of the feed table
When operating the winch ensure there is a clear line of sight between the operator and everyone onsite
Establish a clear hand signal system before any winching commences
Ensure suitable attachment is made to the section being winched using slings or chains of the correct WLL compatible with the winch capacity
Make sure no one can be trapped between the section being winched and the feed table
Ensure operators are standing clear of the feed table landing area and outside of possible pinch zones
Don't leave the machine running unattended
Shut the machine down when tree work operations are underway to allow communication
Use a push stick for the shorter offcuts or feed another long branch to carry them in. DO NOT reach into the feed hopper with hands or feet
Do not exceed the machine's capacity
If the machine becomes blocked, shut down correctly, remove keys and allow the machine to reach a complete standstill lockout and then clear
Prior to leaving the site check that all loose debris is removed from the machine and the discharge chute is correctly and securely stowed
Clean the dust off the chipper and move the truck forward so that woodchips are not left on the ground or in the gutter
Finally, don't forget to clean up around the truck and chipper.
If these steps are followed you should find greater operational efficiency, less downtime and less damage to your investment and therefore more profit on your bottom line.
A common question is 'Do chipper operators need a ticket?' Workplace Health and Safety (WHS) states that employers and the self-employed at work must be adequately trained in their duties.
A nationally recognised statement of attainment such as FPIHAR2206B Operate a mobile chipper mulcher is one of the ways to document that approved training and assessment has been carried out.
Operator training and certification is available through Training For Trees. Persons that are trained and certified generally have a greater understanding of machine operations which results in less downtime, less maintenance requirements and ultimately the reduction of accidents and injuries.
"Everyone engaged in carrying out work around trees must be trained and qualified in their designated task and strive to maintain and improve their industry currency by continuing to gain relevant experience and qualifications."
Training is as important as the servicing of vehicles and machinery, after all, workers are the machinery required to operate your business. It has been proven that independent training and assessment increases staff retention, safety awareness, productivity and efficiency. Remember to schedule regular refresher and update training sessions.
For full trade level qualifications and apprenticeships to meet the industry standard requirement to be classified as an arborist/tree worker you will need to undertake AHC20513 Certificate II in Arboriculture which is a good pathway to follow towards becoming a qualified working arborist and undertake the AHC30810 Certificate III in Arboriculture.
Funding incentives currently apply to eligible applicants and their employers in QLD.
---
"Safety Rules!"
Enrol now for Cert II and III in Arboriculture. FIRST AID & AC/DC now booking. Contact Training For Trees for a short course RPL or refresher training needs. Visit www.www.trainingfortrees.com.au or email info@trainingfortrees.com.au for more details.