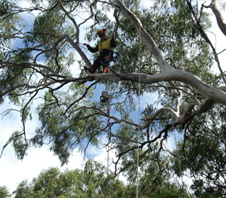 Take advantage of events, training and courses to stay up-to-date on the ever-changing arboriculture industry.
By the time you read this there will be a new Asia Pacific tree climbing champion and the Queensland state climbing competition will be happening on August 23-24. These events along with Arborcamp, which in QLD will celebrate its tenth birthday this year, and others held by all the various Australian arboriculture associations help advance industry awareness. All these events should be noted on the calendar as essential professional development by anyone involved in the industry.
There seems to be a myth that these events are only for climbing competitors. While they do allow climbers of all skill levels the chance to compete, these events are about showcasing innovative climbing skills and promoting safe practice within our industry, particularly at the Arborcamp which is attended by sponsors who demonstrate and sell climbing gear machinery
and equipment.
These events are run by volunteer associations with a genuine aim to promote safe and efficient practices in the form of workshops and information. It is important to attend in order to improve skills and knowledge and compete in events, even if it is the weekend!
It is evident that the level of skills and knowledge in our industry is increasing. Some readers passed a recent test, well done and thanks to everyone who contacted the office regarding the use of a top handled chainsaw one handed and the climber suspended from the recalled version of the ZigZag that was depicted in the photos surrounding our last article in Arbor Age. It is worth noting that the new 2014 approved version of the ZigZag is now available through major equipment suppliers.
As I mentioned earlier, keep up to date any way possible. Arborists will never know everything because there's a lot happening in the industry and arboriculture continues to advance immensely here in Australia. Another issue to consider is how to keep qualifications up to date. Within the current OH&S legislation there is a general obligation to undertake training and to maintain its currency. One way to comply with this is to attend the refresher and update training and assessment programs run by Training For Trees.
Refreshers are a good way to stay up-to-date with the latest requirements and can be useful to ensure that any bad habits are identified and rectified with further training.
There is always a lot happening on the equipment front, from an EWP that will fit through a standard entrance door, to battery-powered chainsaws and new easy-to-wear reasonably stylish PPE designed for the Australian climate.
Often noticeable is the vast difference between standards of tree pruning as recommended in AS4373. Most arborists will also notice the vast differences in the level of skills applied to the pruning of trees. Below is a checklist for consideration:
The needs of the tree and reasons for pruning must be taken into consideration and factors including its current form, condition and structure. Remember, it's up to the arborist to prescribe the correct treatment and advise clients correctly in the first place.
It is very easy to cause irreversible damage to trees through poor pruning practices. Operators should be qualified to Cert III in Arboriculture level and have a thorough knowledge of the principles of CODIT.
Pruning skills can take many years to learn and the best place to start is with the aid of a short course in basic pruning techniques followed by plenty of supervised practice in the workplace.
Prior to commencing any pruning operation, be aware of any legal and environmental restraints, such as tree protection legislation, and avoid disturbing nesting birds or wildlife.
Also consider the right time of year to carry out the work, as some species react adversely to being pruned at the wrong time. This can also affect flower/fruit production.
Careless pruning leads to irreversible damage to the tree in the form of scars along the branches, coat hanger-like stubs, large flush cuts or wrongly angled branch collar pruning cuts. These all prevent the correct processes from happening and leave the tree open to secondary infection and future problems.
---
Why Prune At All?
There are numerous reasons for carrying out pruning work to trees and shrubs. Some of the common ones are as follows:
Overhanging branches cause problems with neighbours
Statutory clearance requirements for utilities such as power and phone lines
Satellite signal reception problems
Line of sight for security cameras
Overhanging or low branches that impede traffic flow lines of sight and road signs
Modification and repair of storm damaged canopies
Plants that have outgrown their current surroundings can be made smaller and retained as an alternative to complete removal
Removal of dead, diseased, dying, and dangerous wood (the 4 Ds)
Formative pruning of young trees to produce a sound structure for future growth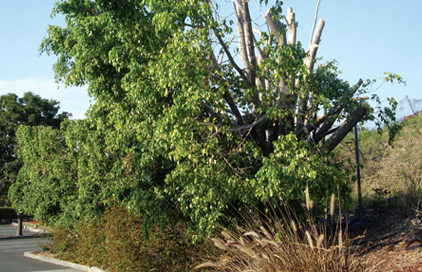 ---
Tools and Equipment
Care should be taken to ensure that the pruning tools selected are sharp, good quality tools that have a bypass action and the blades are maintained correctly.
Maintain all hand tools and chainsaws in a good, correctly sharpened condition.
Always plan the sequence of operation and always consider the outcomes of actions before cutting. As the old saying goes, you can always take more off but you can't put it back on! Ensure the final cuts are made to the outside edge of the branch collar.
Pruning work, in some ways, is a bit like going for a haircut; in most cases people just want to remove the bulk but keep the style and shape and still want friends to recognise them when it's finished! Good pruning should be carried out in the same fashion. Reduce the size, thin and shape to achieve a well-structured neater version of the original.
Arborists must ensure they are familiar with the Australian standard AS 4373 Pruning of Amenity Trees published by Standards Australia.
---
Don't Forget Pruning and Certification
For basic pruning skills the competency unit AHCPGD203A Prune Shrubs and Small Trees is a good starting point as it covers basic pruning practices. At a more advanced level, AHCARB303A Implement a Tree Pruning Program covers more of the above ground technical issues associated with tree pruning.
Operators that are trained and certificated will have a greater understanding of pruning operations. The end result shows the standard of pruning workmanship and operations.
Training For Trees recommends as a minimum that all climbers undertake the complex tree climbing and aerial rescue training along with the aerial and ground based rigging units. Groundies are also encouraged to undertake ground based rigging training.
AHCARB307A Undertake Complex Tree Climbing
AHCARB306A Undertake Aerial Rescue
AHCARB310A Perform Aerial Rigging
AHCARB207A Perform Ground Based Rigging
"Everyone engaged in carrying out work around trees must be trained and qualified in their designated task and strive to maintain and improve their industry currency by continuing to gain relevant experience and qualifications."
Training is as important as the servicing of vehicles and machinery, after all, workers are the machinery required to operate the business. It has been proven that independent training and assessment increases staff retention, safety awareness, productivity and efficiency. Remember to schedule regular refresher and update training sessions.
For full trade level qualifications and apprenticeships to meet the industry standard requirement to be classified as a working arborist individuals will need to undertake the AHCARB30810 Certificate III in Arboriculture. Funding incentives currently apply to eligible applicants and their employers in QLD.
---
"Safety Rules!"
Enrol now for Cert III Arboriculture. Contact Training for Trees for a short course RPL or refresher training needs.
Visit the website for details www.trainingfortrees.com.au or email info@trainingfortrees.com.au