So much is happening at the moment within the arboricultural industry. The new Arboricultural qualifications that have been promised for a while are now current. They have generally been revamped and, as all things new usually do, have made a significant improvement over the old training package.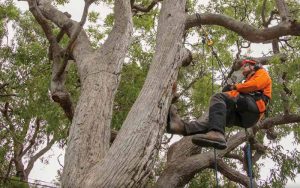 All industries are assigned to a specific training package which contain a range of competency units together with packaging rules that specify how a particular qualification such as a Certificate III in Arboriculture goes together and meets the requirements of industry.
They also set industry standards regarding assessment outcomes and specify how training and assessment should be carried out under the rules set by the Australian Skills Quality Authority (ASQA), who are the national regulator for the vocational education and training (VET) sector.
Training packages are reviewed and managed through a series of organisations as explained below.
Australian Industry and Skills Committee (AISC)
This is a committee of industry leaders from across Australia who make decisions about what qualifications are needed and when.
Industry Reference Committees (IRCs)
These are committees made up of people with experience, skills and knowledge of particular industry sectors which will ensure that training packages meet the needs of employers.
Skills Service Organisations (SSOs)
Formally known as Industry Skills councils, SSO's are organisations that support IRC's to develop the training packages that industry needs.
These groups are assigned to a range of industries and their job is to manage update and recommend how the training package is implemented.
The organisations have in-house specialists that consult with Industry and advisory groups to produce and set up these units of competency set the packaging rules and to specify the way in which the competency units are collected (packaged) together to form full certificate qualifications, such as Cert III in arboriculture.
In the older Arboricultural Certificate III qualification, according to the rules, to be able to achieve a Certificate III in Arboriculture, it was almost mandatory that trees had to be climbed using a rope and harness. This unfairly precluded some applicants who, for example, were working in the utility industry and trimming trees around power lines from an EWP (Elevated Work Platform) or those that will only carry out work from an EWP.
A ground based stream has been added for those who wish to be qualified in the industry but have no need or desire to carry out work above ground.
So now it is possible to choose your option to become a qualified arborist at Certificate III level, whether you access the trees with ropes or only work from a EWP or just qualification certificate so that employers will be able to choose between climbing or non-climbing qualified staff.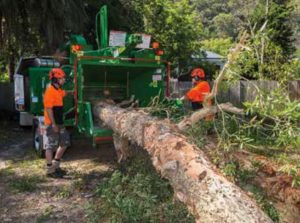 There are some that would argue that climbing trees is essential and that to be an arborist you must be a climber but what about industry legends such as Dr Alex Shigo and Claus Mattheck? They didn't climb trees but have and continue to shape our industry and the way we care for trees immensely.
The Training For Trees office regularly gets enquiries from persons that want to change careers and learn to be an arborist.
Arboriculture is continually becoming recognised and respected as a profession and even the most general public can now pronounce the word 'arborist,' although in some cases arboriculture causes a few difficulties in its definition, but hey, progress is good.
Here is an excerpt from an article I found on the web advising students of their career choices. It is American and paints an interesting picture.
"Arboriculture is so physically demanding that most strive to become inspectors (those who do not climb trees or drag brush) before they hit age forty.
Starting a career in arboriculture typically begins as a "groundsmen," which, as the name implies, means that they tend to everything on the ground, while the "climber, well, climbs, and tends to do the more glamorous work in the trees. Groundsmen have it pretty rough. They have to get whatever the climber needs and tie it onto his climbing line, while keeping the ground clear of debris.
There is always more brush to drag, sometimes great distances, to where it gets staged for chipping.
All of that brush must be fed into a fierce machine that will just as soon grind up the groundsman feeding it if it gets the chance. It is the hardest and least glamorous work in arboriculture. And that's saying a lot."
I happened to find that all quite amusing, especially the fierce machine bit, which I assume to be the chipper that may grind up the groundsman! Sometimes the media's perception of our industry shows that they still just do not get it.
During training at TFT we constantly remind our students of the bigger picture of arboriculture and the pathways that can be taken for a lifelong career and this often raises questions like "How do I become a consultant, manager or business owner?"
Well there is no easy answer but it generally means carrying out the hard yards and starting out at the bottom as a groundie, learning how to become part of a team dragging brushwood and carrying logs progressing to learning a few simple knots to be able to tie things on the climbers line and to develop some tree knowledge along the way.
This may not seem too glamorous as most just want to put on a harness and start swinging around in the tree using a chainsaw straight away, which is obviously not acceptable without the correct training.
---
So what does it take to be able to proudly stand up and be classed as an arborist?
---
My personal recommendation would be to spend as much time learning the processes and procedures of the job as possible, ask lots of questions and make an effort to learn some tree names, even when dragging branches to the chipper means you could be learning about trees, How do they smell? How heavy is the wood? Do you get splinters in your hands? What colour is the timber? Are there flowers or fruits? Why is the heartwood soft or hollow?
Combine this initial knowledge of which some can be learned in your own time and on the job with an apprenticeship such as the AHC30810 Certificate III in Arboriculture and begin your career in the wonderfully diverse world of Arboriculture.
If you are thinking about undertaking some form of arboricultural qualification pathway then now is the time to start.
Take some ownership over your future career spend the time be excited and look forward to the challenges and substantial rewards.
There are Government funding and employer incentives for the AHCARB30108 Cert III arb which will soon be rolling over to the (AHC30816 which is the new qualification) for both the trainee and the employer Certificate III in Arboriculture is classed as a priority one qualification and recognised as an apprenticeship due to an industry skills shortage.
Further information regarding funding can be obtained from your local apprenticeship centre on the web at www. australianapprenticeships.gov.au.
Employers must remember that there is a need for training within the workplace and it is also essential for some of the training to be carried out away from the pressures of the workplace. These sessions are often perceived to be not cost effective and can cause a problem for employers but are extremely beneficial to the trainee and essential to the successful completion of a qualification.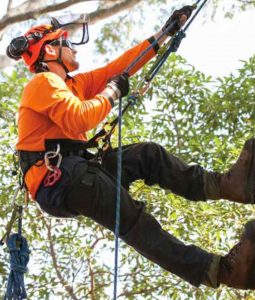 Within the current OHS legislation there is a general obligation for us all in the workplace with a major emphasis on everyone to act with due diligence.
This basically translates to mean the care that a reasonable person must exercise to avoid harm to themselves or others in and around the workplace.
It is a pretty open-ended term placing obligations on everyone while they are at work, including employers, the self-employed and employees, with the general requirement to carry out their duties as responsible operators it is also a requirement for everyone to have received training for their roles and to be deemed competent and current in their required skills.
Recently Safework Australia released a document titled "A guide to managing risks in the tree trimming industry". This guide is the first official industry reviewed guidance regarding all things health and safety that has been produced for our industry in a long time and is extremely useful regarding managing WHS obligations within our industry and can be downloaded at www. safeworkaustralia.gov.au.
Tree owners are becoming better educated and are demanding quality work carried out to Australian standards and increasingly are asking to see evidence of qualifications, including the subject lists undertaken as well as proof of adequate insurance prior to engaging a contractor.
Several leading Australian tree care associations are now operating registers of qualified member's consultants and tree care companies which are encouraging workers to get their skills checked out and begin the process of attaining training and qualifications updating as well as consolidating skills already held through RPL and looking to carry out all works according to Australian standards and industry best practice.
---
At Training For Trees we recommend that all operators attend regular training sessions and updating while working their way towards the full Certificate II or III in Arboriculture and above.
---
"Everyone engaged in carrying out work around trees must be trained and qualified in their designated task and strive to continue gaining experience through ongoing updating and training even more so this will be a requirement under the new OHS rules."
The best way to provide evidence of adequate training and competency in the workplace is to carry out nationally recognised training and assessment and to attain relevant AQF qualifications.
"Safety Rules"
Book now for refresher training or to upgrade your skills with Training for Trees. See our web site for details of upcoming courses: www.trainingfortrees.com.au.