AHC50516 Diploma of Arboriculture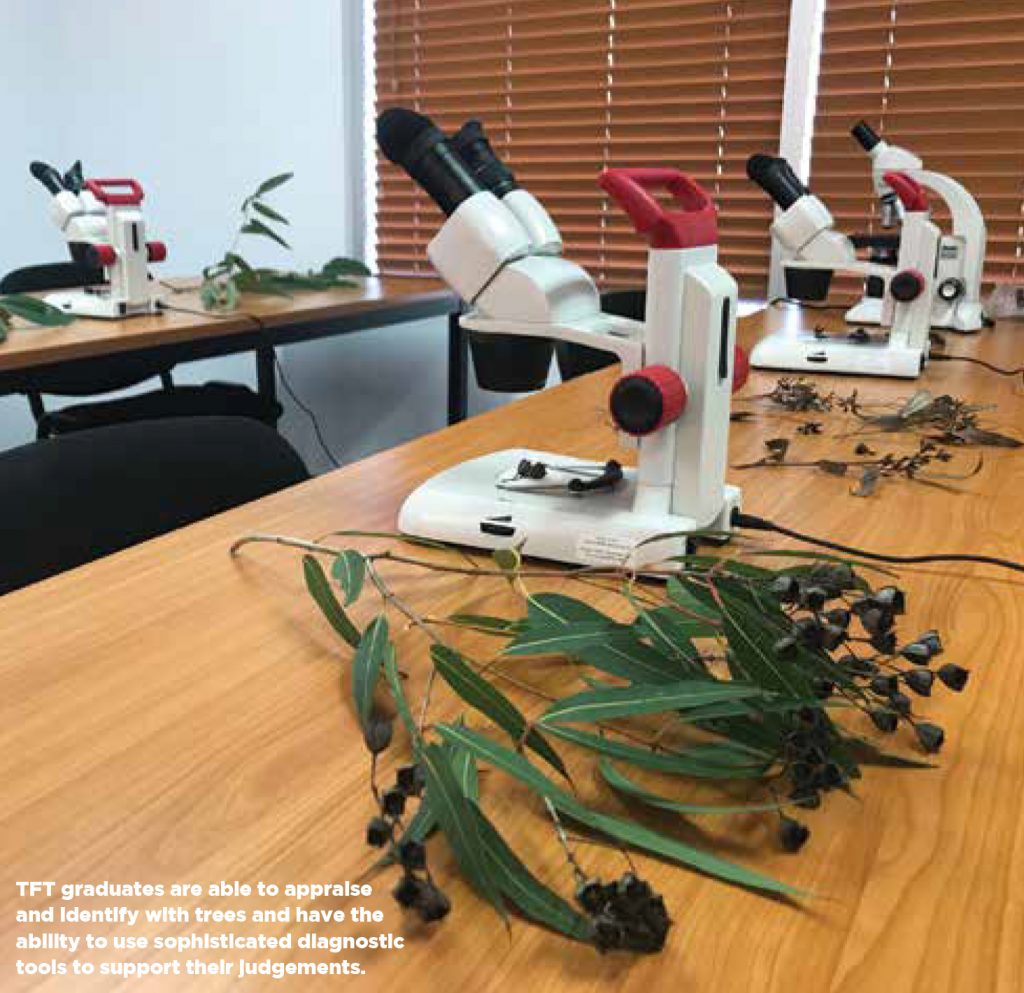 This qualification provides occupational outcomes with integrated knowledge and skills for skilled or paraprofessional work and as a pathway for further learning required for consulting arborists in the arboriculture industry.
You will learn how to identify and select trees, examine and assess trees, diagnose and recognise tree diseases and defects, understand legislation, document and audit tree work as well preparing arborist reports with the use of  CAD (Computer Aided Design software).
The delivery of the Diploma of Arboriculture is conducted face to face in a classroom environment at Training For Trees® training and education centre in Darra Queensland. 
*Enrolments now open!  
Course Start Dates
06th May,2020
06th May,2020
10/38 Limestone Street, Darra QLD, Australia
Study & Career Pathways
Upon satisfactory completion of this program you will receive a nationally recognised Diploma in Arboriculture and will be considered qualified to work as an Arboricultural Consultant. Participants successfully completing the Diploma of Arboriculture can undertake further study in this area of specialisation AQF Levels 6-8
Entry Requirements
Pre-Entry requirements
TFT recommends all participants who would like to enrol in the Diploma course hold a Certificate III in Arboriculture or have at least a minimum of 3 years at managerial/supervisory level of tree industry/work experience in order for them to satisfactorily complete the course at Diploma level. All students will be required to have completed an Australian Senior Secondary Certificate of Education or equivalent (e.g. Year 10) as well as undertaking an LLN assessment to assess candidates' suitability to complete the course and set assignments. Candidates will be interviewed prior to commencement to ensure the course is suitable for their needs.
Completion
To achieve the AHC50516 Diploma in Arboriculture learners must complete and be assessed as competent in 10 units of competency as specified in the Agriculture, Horticulture Conservation and Land Management Training Package, as described in the packaging rules for AHC50516 Diploma in Arboriculture. The ten units of competency consist of seven core units and three elective some which are pre reqs for the core units. All units will be delivered by means of Face to face lectures, with hands on and practical training sessions, as well as assignments/self study (course requirement) that are set by Training For Trees® to be supervised practised and completed within the workplace. Completion times for each assignment will be set at the commencement of the unit of competency.
Assessment
Assessments are completed both during classroom sessions and after the completion of the unit and any assignments. The structured assessment process is designed to meet the needs of each individual participant within the requirements of the unit of competency and the respective Performance Criteria.
Assessment will be conducted using a variety of methods including:
practical demonstrations of skills and knowledge
written responses to questions
written assignments
oral questioning
Delivery
Training For Trees® delivery of the AHC50516 Diploma (Level 5) will consist of scheduled classroom face to face lectures including visits to a simulated work environment with a combination of theory and practical assignments, to be completed.
Participants will attend scheduled time tabled training  sessions that are delivered face to face.
Assignments (course requirement) will be issued to be completed in addition to the above which are to be completed by the student in their workplace, self/study.
Participants will be encouraged to apply newly acquired skills in the workplace in order to generate evidence and assignments towards proof of competence against the targeted units of competency.
Location
This course will be conducted at TFT Head Office Training & Education Centre Unit 10 38 Limestone Street Darra QLD 4076
Our Commitment
Training For Trees® guarantees their commitment to assisting learners in achieving the required outcomes throughout and at the completion of their training as per the requirements of industry in accordance with the relevant Standards for RTO's 2015.