AHCARB312 Use Standard Climbing Techniques to access trees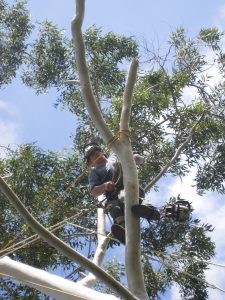 This unit of competency describes the skills and knowledge required to climb trees with ropes and harnesses using standard techniques for the purpose of accessing required sections of trees.
This unit applies to workers who have a range of cognitive, technical and communication skills to select and apply a specialised range of methods, ropes, equipment and information to complete routine activities and provide and transmit solutions to predictable and sometimes unpredictable problems. Work is implemented with low risk work procedures and to comply with Safe Work Method Statement documentation. It is an industry requirement for competency in this unit that assessment must include a log record of two hundred (200) hours of standard climbing.
Course Start Dates
Details
Price

$650.00 per person payment required upon enrollment by credit card or bank transfer. Confirmation will be forwarded once payment has been received.

Delivery & Duration

2 days

Prerequisites

AHCARB311 Tie, dress, set and finish arborist knots

Class Size

6

Award

All persons assessed as successfully meeting the assessment criteria will be marked as competent and will be issued with an Australian nationally recognised Statement of Attainment for the unit of competency assessed

Course Requirements

All candidates are required to wear correct PPE and supply their own harnesses and climbing ropes where possible

Method of Training

Theory and practical

Method of Assessment

Theory and practical

Refresher/Update

Recommended every 12-18months