This year is wrapping up with a list of terrible accidents we don't want to hear about any more in 2017. This all goes to show how much training matters.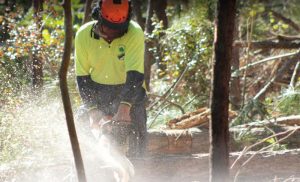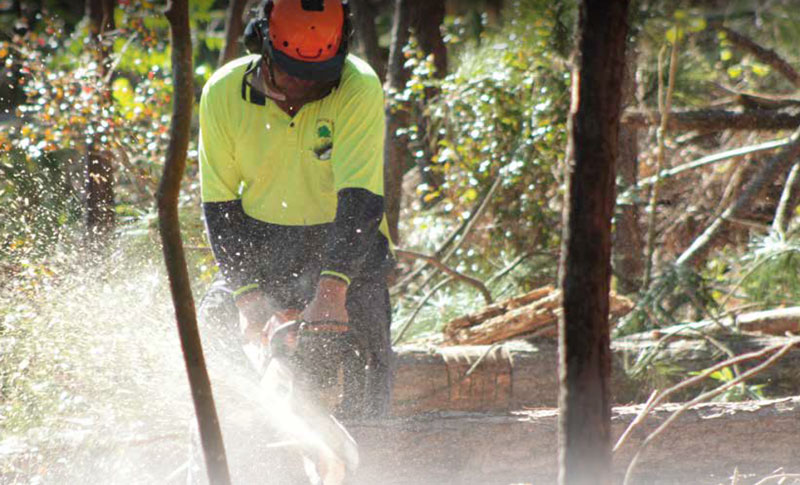 As we draw to the close of an extremely busy year, it is normally the time to reflect, relax and recoup with the Christmas break fast approaching and the prospect of recharging with a couple of cold beers and the beach at your feet.
On a sad note, while reflecting on the past year, there have been several deaths and serious injury incidents that have occurred in the tree industry and several that are subject to ongoing investigations and coronial court judgements.
Some of accidents that we are hearing about would appear to be caused by lack of maintenance planning and preparation. While others would sadly just seem to be due to unforeseen circumstances.
At Training For Trees we are committed to encouraging safe work practices and standards and have a close allegiance with WHS who often seek our assistance with their investigations in an independent advisory capacity.
During this process we regularly get to work with some of the OHS inspectors.
These guys are genuinely interested in improving and maintaining the health, safety and welfare of everyone in the workplace. They also have some pretty major powers that enable them access to all areas of any workplace anytime anywhere.
Now many articles in this magazine have covered the basic requirements that we all have to comply with in the workplace under the latest Work Health and Safety Act and regulations, but I thought it may be relevant to recap on a few things that are well worth taking note of as follows.
Inspectors are able to enter a workplace and inspect, examine and seize anything including documents for further analysis if required
They can shut down and prohibit any further works on site for serious infringements
They can issue an improvement notice if they believe that the WHS act has been contravened along with a date that the problem needs to be fixed by. This could involve a requirement for the retraining of staff, for example
They can also impose on the spot infringement notices for minor infringements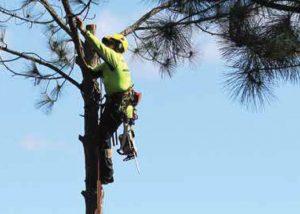 Training and assessment in the vet sector requires evidence of candidate knowledge regarding the requirements of persons at work under the aforementioned act.
For example what is a PCBU? Anyone operating a business would be classed as a Person in Charge of a Business or Undertaking and thus fall into this category. In a nutshell some of the duties required of a PCBU are to:
Provide and maintain a safe working environment
Ensure the safe use, handling and storage of all plant and equipment
To provide workers with information, instruction, training and supervision that is necessary for them to be able to work safely without risks to their health
To monitor workplace conditions and ensure suitable control measures are in place to ensure workers health and safety
There is a major emphasis on a process that is required to be carried out by all persons in a workplace called "Due diligence". This basically means that it is everyone's duty to carry out their work with due regard to safe operating practices.
References must be made to the Work Health and Safety Act as well as the WHS regulations, Industry codes of practice and any relevant Industry standards.
The requirements for employees state the fact that a worker must take reasonable care so that their actions do not affect the health and safety of other persons. They must follow all policies and procedures of their workplace.
Take note of some of the following terms that are used in the WHS act: Hierarchy of risk assessment consists of the following steps that must be taken:
Elimination of the hazard
"Substitution" use a safer method
Isolation of the hazard from people
"Engineer" work out how to make it safer
Administrate the process to reduce exposure
PPE: ensure to wear required personal protective equipment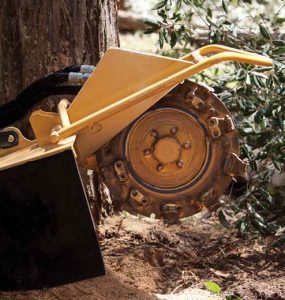 Hazard means a situation or things that have the potential to cause harm.
Risk means the possibility that harm might occur when exposed to a hazard.
Control measures means taking action to eliminate or minimise the risks as far as is reasonably practicable.
If you need some help with your company OHS requirements Training For Trees can help you with training and assessment in workplace health and safety units of competency relating to the arboricultural industry.
We are also associated with a company that specialises in tailor made OHS systems for all sizes of business in the tree and landscape industries.
Accidents
Back to the reflection during the past year, here are some of the terrible accidents we have heard about.
Entanglement with a running stump grinder. An operator of a remote controlled machine got too close to the cutting wheel as it slowed resulting in a large laceration to the lower body and legs.
Entanglement with a running stump grinder. An operator of a hydraulically driven stump grinder, who was in the correct operating position and standing behind the guarding of the machine, had his feet dragged out from under him and was caught under the cutter wheel due to getting caught up in weed matting that was not visible but buried around the stump which caused his feet to be pulled under the machine.
---
"Have an emergency plan. Practise aerial rescue either climbing or EWP based so that in an emergency response becomes a natural process.
---
A client of a tree crew who was assisting on site with operations was struck and killed by a falling section of timber, while standing inside the exclusion zone
A tree worker contacted overhead power lines with a pole saw and died onsite
A young tree worker died after being struck by a tree that was felled and guided by a tag line into a confined space where there was no exclusion zone set and not enough distance between the worker and the length of the felled section of tree
Use of a top handled saw one handed. We have heard of at least five cases this year of severe lacerations to the left hand and arm as well as a kickback to the stomach area resulting from using these machines one handed. These injuries usually result in a hospital visit investigation by a WHS inspector at least 20 stitches and on average three to six weeks off work
A tree worker was crushed by a tree section while using a crane to dismantle a tree
We have heard of several cases of ropes getting pulled into chippers pulling tight and whipping into persons on site breaking bones and causing severe lacerations. Be aware of ropes around chippers keep loose rope ends in bags make all your ropes brightly coloured and keep a tidy site.
Throughout Australia I am sure there are more reports like these which is just so sad. It is up to everyone in industry to make sure that we minimise these awful statistics and accidents. Our hearts go out to anyone reading this that has suffered loss or injury.
Be prepared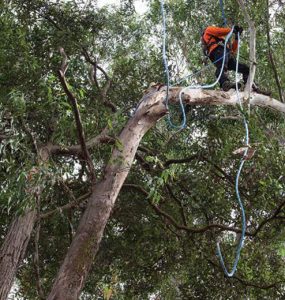 It is so important to prepare and plan worksite operations and to assess the hazards and risks as well as to implement control measures and to review them regularly.
Communicate with your workmates either verbally, use a whistle or even consider two ways or Bluetooth headsets incorporated into your earmuffs.
Have an emergency plan. Practise aerial rescue either climbing or EWP based so that in an emergency response becomes a natural process.
Use the hierarchy (Eliminate, Substitute, Isolate, Engineer, Administrate, PPE). It can be applied to just about any workplace task you care to mention.
Remember, it's usually the easy little job at the end of the day that catches you out, the one where you are fatigued, under pressure and thinking about what's for tea tonight! Be smart stay safe and don't become another statistic.
We still have no code of practice for our industry but we do have some excellent training packages and associated units of competency. We also now have a very useful industry guidance document that has been produced with assistance from industry groups and is published and available to freely download from the Safe work Australia website.
This document contains essential guidelines for our industry and is called a Guide to managing risks of tree trimming and removal work.
This document brings us a step closer to the much needed arboricultural industry code of practice that will serve to regulate our industry in the not too distant future.
It is clearly stated in the Workplace Health and Safety Act and regulations that anyone in the workplace must be trained and competent in the tasks they are required to carry out in the workplace.
It is also suggested that to hold a relevant statement of attainment relating to the required tasks is a good way to prove compliance with those requirements.
These units of competency form the basis of our industry standards as they are developed with close industry consultation and are nationally endorsed.
Working with or around powerful machinery requires planning vigilance and operational organisation. Risk assessment SWMS pre start and machine checklists are essential parts of the planning, pre start and operational stages.
A good checklist should not just be a tick, flick and forget. It should be referred to and used as part of the toolkit. It should be used and valued as part of the everyday operational features.
---
"It is up to everyone in industry to make sure that we minimise these awful statistics and accidents.
---
Training options
We are also excited that we will soon be offering the latest updated version of the Certificate III in Arboriculture which has just been released after its extensive industry consultation and upgrade.
Now you are able to undertake and qualify as an arborist with the trade level Certificate III in Arboriculture with the option of choosing different streams and be officially recognised as an arborist. The options are:
Ground based arborist
EWP arborist
Climbing arborist
These specialisations will allow individuals to choose the right pathway to be able to qualify in the Certificate III at a trade level specialisation to suit their needs wherever they wish to operate within our diverse industry.
As the industry continues to gain recognition the TFT office is often asked about the best pathway to take regarding becoming a qualified arborist. The option that we generally recommend is based on the definition of an arborist as described in the Australian standard AS4373 pruning of amenity trees.
If you decide to undertake the Certificate II in Arboriculture this will enable you to be to be classed as a general tree worker and work with a level of supervision within a crew. If you undertake the trade level, Certificate III in Arboriculture, then you are able to be classed as trade level arborist in charge of crews and able to work independently.
Before you enrol into a course you should consider which area of our wonderfully diverse industry suits you the best, then commit to invest as much time learning the processes and procedures of the job as possible, ask lots of questions and make an effort to learn some tree names even when you are dragging branches to the chipper you could be learning about trees, How do they smell? How heavy is the wood? Do you get splinters in your hands? What colour is the timber? Are there flowers or fruits? Why is the heartwood soft or hollow? What is in the pruning standard AS4373?
Employers
Can you demonstrate evidence of recent staff training or updating within your company?
Do you have a safety policy that includes safe work method statements, risk assessment and machinery checklists?
Have staff members attended recent courses workshops or verification of competency (VOC) sessions?
Are all qualifications certificates and licences up to date?
Once a unit of competency, full qualification or licence has been attained, attending refresher and update days is a good way to ensure that the qualifications are kept up-to-date with the latest requirements, which in most cases is the same as getting a verification of competency or VOC.
This is an also an effective way to ensure that any bad habits that may have crept in are identified and rectified with further training recommended and carried out if required. Regular VOC refresher and update training and assessment programs to suit relevant skills as required are offered at Training For Trees.
Tree companies are generally always looking to recruit new skilled staff members. We believe that one of the best ways for a company to ensure a continuity of qualified efficient staff would be to consider taking on at least one apprentice that is young and new to the industry enrolling them into the Certificate II or III in Arboriculture apprenticeship and mentoring them through their training.
Work with the apprentice and the training organisation and encourage their development at every opportunity.
As they progress through their apprenticeship they will begin to repay your investment by becoming more useful within your company and by the time they are qualified they will go on to become your next crew leader and can start helping to train the next apprentice and so on.
If they leave and move on once qualified then at least you will have had some return on your investment and the upcoming apprentices will keep the cycle flowing, giving you access to staff that know your business and systems and providing a return on the investment you have made in them.
Consider your strategy for training and how you can keep your existing qualifications up to date. "Everyone engaged in carrying out work with trees must be trained and qualified in their designated task and strive to maintain and improve their industry currency by continuing to gain relevant experience and qualifications".
Training is as important as the servicing of vehicles and machinery. After all, workers are the machinery that you run and need to maintain to enable smooth operation of your business.
It has been proven that independent training and assessment increases staff retention safety awareness productivity and efficiency. Remember to schedule in regular refresher and update training sessions.
To be classified as a trade level qualified arborist you will need to undertake the relevant stream of the AHC30810 Certificate III in Arboriculture. Funding incentives currently apply to eligible applicants and their employers in QLD.
"Safety Rules"
Check out your eligibility for funding. Enrol now for Certificate II and III Arboriculture. Chainsaw (All levels), EWP Licence, First Aid, Working at heights, Chipper Stump grinder Polesaw and AC/DC now booking. Contact Training For Trees for your qualifications, short courses VOC, RPL and refresher training needs. Train with us and "leaf" qualified. For details visit www.trainingfortrees.com.au or email info@trainingfortrees.com.au.