Author | Peter Chaffin
A major review of the arboricultural training package and its components is underway. Get involved now and help make the change for good.
---
Welcome to winter which in South East Queensland is just amazing!
There is a lot happening in our wonderful arboricultural industry at the moment, with probably the most significant overhaul of our industry training package ever undertaken well and truly underway. This is a major review of the arboricultural training package and its components.
As is the usual process in these matters most of the work is being undertaken by a small group of unpaid volunteers from industry who are recruited into an advisory committee to support the industry skills council steering them towards the requirements of industry.
This means that usually the opinions of a relatively small group of dedicated industry people are driving the major changes with not much assistance from the wider industry.
If you don't get involved and make comment then it will be assumed that industry is willing to accept and support these decisions.
At Training For Trees we really hope that those of you who are interested in standards of training and its outcomes will manage to take the time and have a look at the new proposals and that you will send in any comments you feel relevant to Skills Impact.
Skills Impact are the Skills service organisation that represents our industry and have been working with assistance from industry volunteers regarding this latest update.
Final drafts of the new qualification will be available for final review for a short time and will then be validated by industry, before going forward for national endorsement.
By the time you are reading this article, the process will be a long way down the track towards completion, so if you are passionate about our industry and interested in making a difference, then you really do need to have a look at the Skills Impact website, go through the process to sign in, find the arboriculture project and take a look at the process that has been followed.
This new package is set to introduce some big changes to our industry. If you feel strongly about the content, good or bad, then please have your say.
Initially, the process to be able to register and send feedback looks really complicated but, as long as you follow the prompts, then it is really quite straightforward.

Recognition of Prior Learning
The TFT office gets frequent enquiries from individuals requiring an RPL which is short for Recognition of Prior Learning. There is currently a series of TV and radio ads promoting easy RPL by companies that are not training organisations. They are often merely a sales company that are unlicensed and unregulated that act as middlemen, offering to arrange your RPL with a registered training organisation (usually for a sizeable slice of the fee).
For the record, TFT does not recommend this particular option for arboricultural RPL. There is an extremely involved process in collating and providing the required evidence for an RPL and it generally is not the easy way out that some people seem to believe. If you decide to apply for RPL, it is down to you to provide and meticulously document the evidence you are required to provide and it is also your job to present the required evidence in a format that can be assessed and aligned against the required units of competency.
For example if you hold a Certificate in Arboriculture from 1980, it could be considered as not current today, but if you are able to provide a transcript for the areas covered in those units that aligns with current units of competency, then be able to prove that you have maintained those skills and added to them over the years and are still active in industry, it would go a long way towards final evidence and decisions.
Generally anyone who has spent more than a few years working in the industry should be able to demonstrate good safety and WHS knowledge along with a myriad of necessary forms of evidence. Some of this evidence could be references from clients along with before during and after pictures of works carried out which clearly show that it was you completing the tasks.
The idea is to choose the relevant units of competency from the chosen qualification and then look to provide evidence for each of the specified units. For example evidence of tree pruning competence would need more than a blurry photo of someone cutting off a tree branch. If you are industry based you must be able to demonstrate ability to complete a complete range of arboricultural pruning operations such as those specified in the Australian Standard AS4373 2007 Pruning of Amenity Trees.
Likewise if you wanted to prove you had experience in dealing with trees on development sites, then you need to supply comprehensive evidence that you comply with the requirements contained within AS4970 Protection of Trees on Development Sites. We often find that the task of collating and validating all of this required information is extremely tedious and time consuming. Usually the option of attending training with assessment carried out over a fixed term leads to a more achievable outcome.
Qualifications
The Arboricultural industry continues to be considered as a highly valued and skilled profession and not just a job you do if you got poor grades at school are able to lift heavy things and desire to be built like Charles Atlas, the famous body builder.
Arboriculture in Australia is becoming established and well respected as a profession requiring skilled operatives and rightly so.
Certificate III in Arboriculture
To be able to work as a qualified person within the arboricultural industry general requirements are that you will complete an apprenticeship and achieve the AHC30816 Certificate III in Arboriculture, which is currently accepted as the minimum industry standard requirement to be able to be considered as a trade level qualified working arborist.
The pathway to achieve this qualification involves the completion of 23 industry endorsed units of competency that have been engineered approved and nationally mandated by industry working groups and government funded skills organisations.
Once you have achieved the Certificate III the next step if you wish to continue to progress within our industry is to follow the pathway from trade level working arborist and step up to undertake the AHC50516 Diploma of Arboriculture.
To achieve this qualification you will need to have a considerable working tree knowledge and complete training and assessment in10 industry endorsed units of competency that have been engineered approved and nationally mandated by industry working groups and government funded skills organisations to ensure that achieving this qualification will enable the graduate to operate with the required skills for consulting arborists in the arboricultural industry.
At TFT we believe the message is finally getting through regarding the importance of training and qualification and the benefits that it can bring to everyone including the trees.
Diploma of ArboricultureAt Training For Trees we are proud to be educating the latest and potentially the greatest up and coming stars of our industry who are dedicated to providing a high class service to all things arboricultural.
"If a tree is lucky enough to be under the supervision of a TFT qualified arborist it will usually be a very happy tree indeed."
One of our current Diploma of Arboriculture classes recently undertook a practical day/session of surveying and spot levelling for trees on a development site. Tasks required visual tree assessment and working with the industry standard AS4970:2009 Protection of trees on development sites.
The scenario was carried out on one of the local TFT outdoor training work sites available to our students and involved the proposed re-development works of an existing storm water drainage facility and required the students to consider the potential adverse impacts to the existing trees within the site resulting from the proposed works.
Our students were required to take on the role of a Project Arborist and survey the site.
Identify and plot the trees onto a plan, calculating the required Tree Protection Zone and Structural Root Zones and marking out their radial distances on site to enable the implementation of appropriate tree protection measures. The final requirement of this session was for the students to prepare individual high quality preliminary arboricultural reports for the client detailing the required operational and protection measures for the trees on site.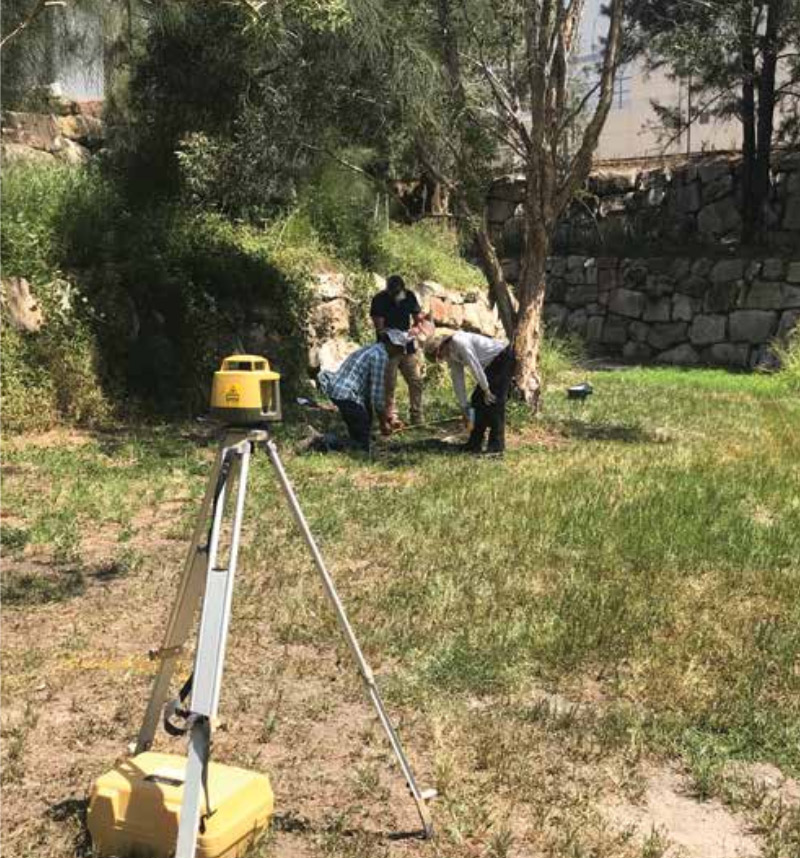 The proposed development works included:
Redevelopment of the existing, storm water drainage facility
Concreting works including re-lining of the existing rubble swale
Replacement of existing concrete culvert
Raising of existing soil profile in accordance with proposed working/finished levels
The students assessed the existing trees within the site using the VTA process (Visual Tree Assessment).
The trees current health condition and potential adverse impacts resulting from the proposed re-development works were also considered.
The student's tasks on-site included:
Site induction and WHS requirements when undertaking tree inspections and assessment
Setting up and operating a Topcon, Rotating Automatic Laser Level to survey/determine spot levels at the base of existing trees within the site
Reference to a construction site plan and understanding of its requirements to set up operations on site
Surveying the location of the trees within the site using the Chain Survey Reference Methodology
Determine proposed finished levels of the concreting works, using the laser level and survey reference pegs
Recording site and tree data (DBH/DAB) using Tree Inspection Schedules and Survey sheets
Extensive use and reference to the Australian Standard AS4970: 2009 Protection of trees on development sites
Calculating and determining TPZ's and required SRZ's of the trees potentially impacted by the proposed works
Assess and determine resulting Minor/Major encroachments in accordance with Australian Standard AS4970:2009 Protection of trees on development sites
Assess further impacts resulting from potential, over-excavation works and construction works
Student's tasks back in-class included:
Tree Protection Plan preparation
Determining correct scaling for plan preparation
Report preparation and delivery to client
Favorite question the office gets at the moment is:
"What do I need to do to become an arborist?"
Our advice regarding entering into the arboricultural profession is to enrol in the course that best suits your needs, then commit to invest as much time learning the processes and procedures of the job as possible, ask lots of questions and make an effort to learn some tree names.
Make an effort to take ownership of your learning both at work and in your own time. Even when you are dragging branches to the chipper you could be learning about trees. How do they look, how heavy are they. What colour is the timber what other features do you notice?
A tried and tested process that we at TFT have been suggesting for several years now is proving to be so true regarding the almost everyday question we get from employers which is:
"We need a new groundie, climber or consulting arborist to join our operation."
New workers don't grow on trees unfortunately, but if you want to have reliable professional staff, you have to be prepared to invest in them.
The process requires a level of investment both financially and in time and effort requiring, amongst other things, large amounts of support tolerance patience understanding and so on!
One of the best sources for new staff often overlooked is that some of the best new recruits could actually come from within your company, where a current employee is encouraged and supported to step up to the plate and develop new skills, while to some extent learning on the job and continuing to earn their keep at the same time.
When this process is coupled with the journey through the Certificate III IN Arboriculture or the Diploma qualifications and you are prepared to work with the student and the training organisation, the outcome is a well-rounded competent and qualified staff member that is a real asset to your business.
We recommend employing as many new recruits as you are able to support but bear in mind that supervision is recommended to be one qualified worker to one apprentice.
Various incentives are available to assist employers and students that are eligible. Training in general could tend to slow things on the work site down a little initially, although as they progress through the training process, your apprentice will gradually begin to repay your investment in their future by becoming more useful and able to operate more efficiently within your company.
By the time they graduate they will probably go on to become your next head climber, crew leader or manager and could also be helping to train the next apprentice to keep your company evolving.
If your apprentice decides to leave and move on once they are qualified, then at least you will have had some return on your investment while they were employed with you and if you get the balance right then there will always be upcoming apprentices that will keep the cycle flowing giving you access to staff that already know your business and systems that will continue to provide a return on the investment you have made in them.
Training is as important as the servicing of vehicles and machinery. After all, workers are the machinery that you run and need to maintain to enable the smooth operation of your business.It has been proven that independent training and assessment increases staff retention safety awareness productivity and efficiency.
Remember to schedule in regular refresher and update training sessions.
If you want to be officially classified as a qualified arborist/you will need to complete the appropriate qualification:
AHC30816 Certificate III in arboriculture Or
AHC50516 Diploma of arboriculture
Safety Rules
Check out your eligibility for funding. Enrol now for the next intake Certificate III Arboriculture and Diploma. Now booking Chainsaw courses running regularly(all levels), EWP Licence, First Aid, Working at heights, Chipper, Stump grinder, Polesaw and AC/DC. Contact us for your qualifications, short courses VOC,RPL and refresher training. Train with us and leaf qualified. See our website www.trainingfortrees.com.au for details or email info@trainingfortrees.com.au