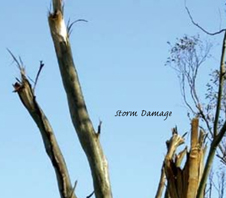 Here we are at the start of another new year. Time seems to be really flying by now in this "time poor" society we are living in, or is it just that some of us are over 40 and it is all in the mind!!
Anyway what a year last year and to finish up with storm season was on us with a bang particularly here in Brisbane with some areas declared as natural disaster zones after cyclonic winds and hail caused trees to be ripped apart and blown down on houses roads cars and power lines all over the place.
So depending on your take on things some poor people lost everything due to property damage from fallen trees followed by an absolute down pouring of torrential rain and flooding most missing the dams of course!!
But for a lot of tree companies it seemed that Christmas had come early and most are now booked out a way ahead and into the New Year.
The clean up response was amazing there were private tree crews council crews the SES and the army some travelling from far and wide to name but a few and yes yours truly was out there too!
I don't think I have ever seen so many tree crews and trucks towing chippers all in one area.
It was however a real worry to see the number of non skilled people operating chainsaws with little or no previous experience and even less personal protective equipment (PPE) I dread to think how many needed to visit the emergency room during that crazy initial period.
My memories of chainsaw operators in croc shoes and stubbies are best left as distant ones!
This brings me to the subject of this month's article:
---
Chainsaw Certification and Maintenance
Most operators hold some form of chainsaw competency certification but many only hold the basic level one as it is known in the trade Operate and maintain chainsaws which includes cross cutting and trimming branches from trees that are felled by others.
This unit of competency alone can not possibly prepare an operator for the reactive forces found in trees and timber that have been smashed into a crumpled heap onto a house a car or over a swimming pool for example.
Anyone that is expected to undertake tree work operations in the aftermath of storms should have extra training for that purpose and be certificated up to at least the Intermediate or level III felling as it is commonly referred as.
This competency unit is called FPIFGM3204A Fall Trees manually (Intermediate)
Operators that are certificated but only operate chainsaws in emergency situations should have regular refresher training preferably on at least an annual basis, regular operators even if already certificated would benefit greatly from regular updates.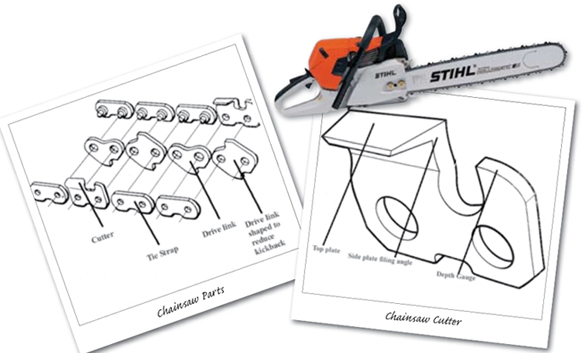 ---
Chainsaw Sharpening
During my travels around certain storm lashed areas one of the tasks I was asked to perform was chainsaw sharpening updating and maintenance for some of the crews that were operating out in the field.
There were a large number of very blunt chains to be found on a lot of the work sites and the sound of screaming chainsaws attempting to burn their way through native hardwood was everywhere. I think that a fair amount of bitumen cutting was also attempted!
So I thought I would just list a few considerations regarding chainsaw sharpening to help make life a little easier.
To begin you need to have some basic knowledge about the chain and its components. The best place to start is to book on a chainsaw course.
The manual that comes with the saw should give you a lot of the information that you will need for sharpening such as the Correct tools and equipment, Chain type. Pitch and gauge (which is the measurement relating to chain size). File size. Filing angles and depth gauge height.
---
The common chain parts are as follows
Cutters: Left and right handed must be maintained at correct angle and all be filed to the same length.
Top plate or filing angle: Found at the top part of the cutter this angle must be correctly maintained as recommended to ensure correct performance.
Side plate angle: The angle that forms the cutting edge along the top plate edge.
Depth gauge: Found just in front of the cutting edge this regulates how far each cutter is allowed to bite into the wood and reduces the risk of kickback when maintained correctly.
Tie strap and rivets: These hold the chain together and must be kept free of damage be aware when filing as it is easy to file too deeply and file into them which weakens the chain
Drive link: Found on the underside of the cutters meshes with the sprocket to drive the chain around the bar, the profile of the cut away on the tang must be maintained to allow the oil to be transported around the guide bar. Be aware when filing the cutters as it is possible for the file to cut too deep into the cutter and file away part of the drive link which will cause the chain to break.
You should have a dedicated tool kit to enable you to carry out chain maintenance and the following items should be carried as a minimum.
File holders marked with correct filing angles
Roller guides for the file if applicable
Suitable chainsaw round files with handles to suit the above file guides
Fine toothed flat files for depth gauge maintenance
Depth gauge regulating tool
Guide bar dressing tool
Vernier callipers to measure and ensure even cutter length
Marker pen so that you can mark the first cutter filed as the starting point
Your local dealer should also be able to advise on the correct tools and equipment to maintain your saw chain in the correct condition.
A blunt chain can usually be recognised from a visual inspection by the fact that it is covered with baked on tree sap or the chrome plating of the cutter is scuffed and serrated along the top plate.
If the chain becomes blunt while in use then woodchips will become dusty powder, Cutting performance will decrease rapidly and extra pressure will need to be applied. This can be extremely dangerous as loss of control due to the extra pressure needed to make the cut can easily occur.
Blunt chains will not self feed into the cut and may skate and bounce which will increase the risk of kickback.
So if you find any of the above symptoms happening then you must stop let the bar and chain cool down and sharpen the chain!!
Make sure you have the correct size of file and guide
Check all components for excessive wear or damage
Maintain correct filing angle
Maintain even pressure and strokes on the file
Keep all cutters the same length then they will all enter the wood at the same height reducing vibration and one sided cutting habits
Remove all damage from cutters
Check height of depth gauges using the correct gauge
Avoid damaging other component parts of the chain
Book now for refresher training or to upgrade your skills withTraining for trees www.trainingfortrees.com.au
---
Safety rules… Peter