Author | Peter Chaffin
Skill shortages, predictions of growth of the arboricultural industry and high standards both in training and work practices are the 'hot' topic of this summer issue.
---
As I write this, here comes 2020 along with summer heat, storms and at last some much needed rain. At Training For Trees we are busy with our current cohort of students and fitting everything in before the big fella aka Santa arrives with a sack full of goodies!
Hopefully, after last month's edition, you have had a chance to consider your pruning standards and practices and that you continue to realise that you are part of a profession which is a bit like a family, made up from some of the most wonderful individuals involved in the arboricultural industry the world over.
Generally, they all have one thing in common and that is their strong values and opinions and, while they may not always agree with each other, they all care about trees.
The exciting news is that over the next few years our industry is predicted to grow immensely and, as a result of this growth, it has been identified that there will be a major shortage of skilled individuals available to fill these jobs that will be created within the industry.
This skills shortage has been recognised as significant and arboriculture is recognised and supported by government, within certain circumstances, with some quite significant incentives to both apprentice and employers to encourage development of the workforce.
As a result of this increased recognition, there is now a lot more research and interest in continuing to develop professional standards and practices and this has encouraged more individuals to volunteer and contribute their time, along with considerable knowledge and advice to the departments and organisations responsible for developing safety standards, advisory publications and training packages.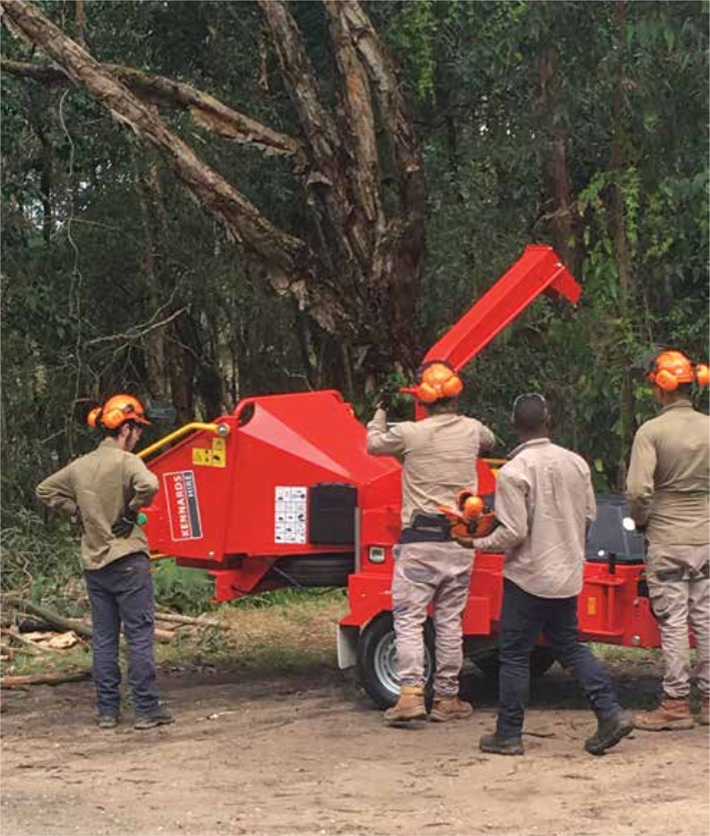 This can only be good for the industry and Skill shortages, predictions of growth of the arboricultural industry and high standards of training and assessment to be set and maintained.
Remember that training packages along with the individual units of competency they endorse are designed to meet the needs of industry and set the required standards.
It is great to see that this latest update has had a lot of technical experts putting their advice to good use and has seen more involvement and input than ever before.
I have been involved with arboricultural training package advisory and technical reference groups involving training packages and standards for the past ten years and am pleased to see the increase in skilled individuals willing to be involved to review, debate and comment on these important issues, to advise the skills service organisation and ensure that what is collated and proposed is valid and workable and meets current requirements of industry.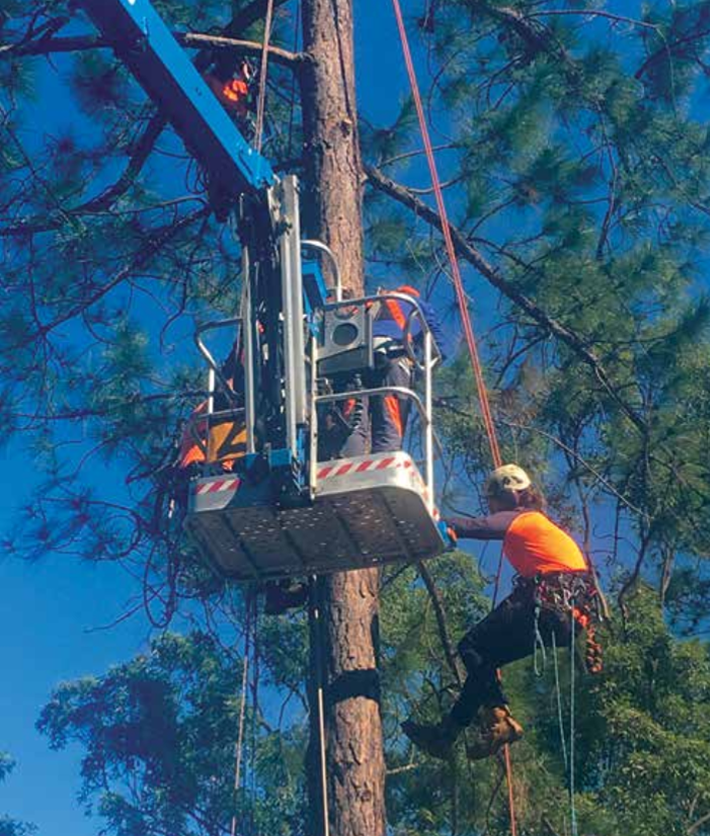 "The government has realised the skills shortage and the importance of our industry and there is considerable support for organisations that are investing in and training their staff."
Remember, the industry standards and requirements are always being updated and industry requirements are reflected in the units of competency that depict the standard required to deem competence in the required task.
This ensures they have been through a long and arduous process of development and have been nationally mandated by industry to ensure training and assessment is able to be completed at the required standard throughout Australia.
All credit to the individuals who have attended countless meetings, industry consultation, and teleconferences, usually undertaking many hours of phone calls and emails, mostly outside of normal business hours.
Feedback from interested persons is considered along with sometimes heated debates and passionate individuals have fought tooth and nail towards the greater good which, overall, is to the benefit of training and education within the Australian arboricultural industry.
The information is collated and published by the industry Skills Service Organisations compiled into the required training package and put forward for national endorsement, prior to the final publication and implementation.
Safework Australia has released a free to download document for industry titled "A guide to managing risks in the tree trimming industry".
This document is one of the latest and quite comprehensive Australian publications designed to provide guidance regarding all things health and safety that has been produced for our industry and is extremely useful regarding guidance for managing WHS obligations within our industry.
Industry has also invested in a series of guides that are being developed designed to advise on practical industry tasks and their recommended outcomes.
They are branded by the publisher as minimum industry standards and are a useful tool to reference industry best practice.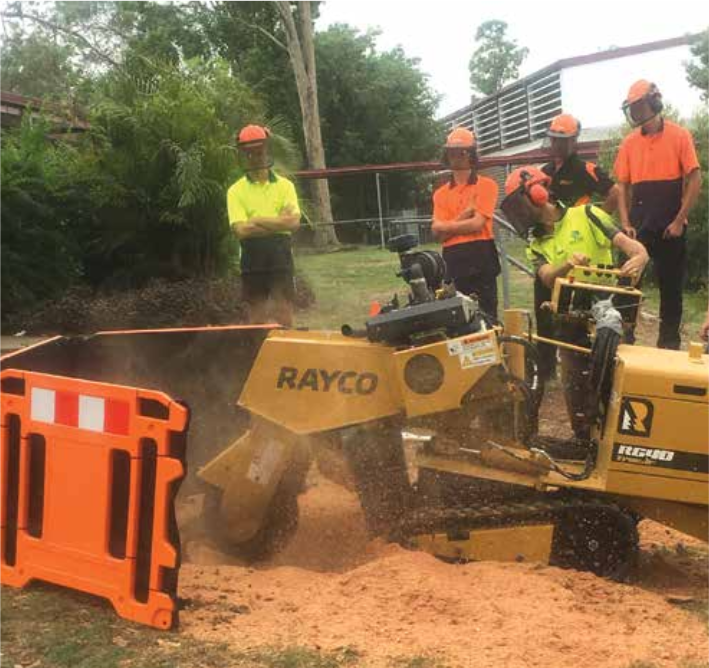 Qualifications
Tree owners are becoming better educated and are demanding quality work carried out to Australian standards and increasingly are asking to see evidence of qualifications, including the subject lists undertaken as well as proof of adequate insurance, prior to engaging a contractor.
Australian tree care associations are now operating registers of qualified members consultants and tree care companies, which is encouraging workers to get their skills checked out and begin the process of attaining training and qualifications, updating and consolidating skills already held and looking to carry out all works according to Australian standards and industry best practice.
Within the current OHS legislation, there is a general obligation for persons in the workplace to act with diligence which is a pretty open ended term, placing obligations on everyone, while they are at work, including employers, the self-employed and employees, with the general requirement to carry out their duties as responsible operators. It is also a requirement that all workers are trained in their roles and deemed competent and current in their required skills.
One way to demonstrate compliance with these requirements is to attend regular training and updating to maintain and improve skill levels.
Regular refresher and update training and assessment programs to suit relevant skills as required are offered by us at Training For Trees.
Once a competency or qualification has been attained, refreshers are a good way to ensure that the qualifications are kept up to date with the latest requirements and this is an effective way to ensure that any bad habits that may have crept in can be identified and rectified with further training recommended and carried out as required.
You must carry out a risk assessment on site before any works commence.
Control measures should include taking note of any work site issues, emergency procedures, the surroundings, exclusion zones, public access roads and any other issues that may be raised during the assessment.
There should be a plan of operation agreed upon and most importantly communicate these items to all personnel on site.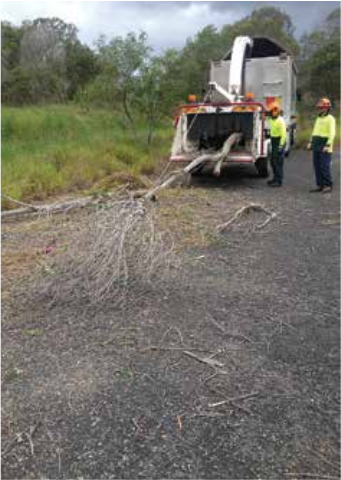 Chippers and safety rules
Unfortunately, we are still hearing of accidents involving brushwood chippers, with severe consequences, and it seems all too common that exclusion zones have not been established, or that safety features have been disabled or are not functioning correctly, or the issue was caused by entanglement with ropes getting fed into the machine.
If a rope inadvertently gets fed into the machine while it is operating, usually it will wind in around the cutting mechanism extremely quickly and if the rope is attached to a portawrap, it will pull tight and we have seen reports of injuries that have included limbs almost severed by the force of the rope cutting into them.
If the rope is attached to the climber then the outcome would be even worse!
These incidents are generally caused by a lack of planning and preparation on the worksite.
I have included a few points for consideration, but the list is not intended to be used as a substitute for training and assessment.
Operating a machine
Only allow trained operators to use the machine
Ensure the operator manual is affixed to the machine and all operators are familiar with it
Set up on site with appropriate signage to enable appropriate exclusion zone to be established
Undertake a risk assessment and comply with SWMS
Keep all ropes a safe distance from the machine (in rope bags)
Operate at correct engine speed
Position discharge chute correctly and check security of all guards
Only one operator to feed the machine at a time in sequence
Organise feeding so that each operator leaves clear for the next
Keep area clear around feed hopper, rake up frequently
Don't stand directly behind the machine, feed from the side
Don't leave machine running unattended
Shut machine down when tree work operations are underway to allow communication and reduce chances of feeding in ropes accidentally
Use a push stick for the shorter off cuts or feed another long branch to carry them in, do not reach into the feed hopper with hands or feet
Do not exceed machine capacity
If machine becomes blocked, shut down correctly and remove keys allow to reach a complete standstill lock out and clear
When winching
When winching ensure operators are trained
Use appropriate communication
Maintain a safe position to operate the control
Keep hands and feet clear
Use approved rigging techniques
Use correctly matched hardware such as slings and pulleys check the WLL of all components
Keep all persons clear of the danger zones
Prior to leaving the site check that all loose debris is removed from the machine and that the discharge chute is correctly and securely stowed
Q: Do chipper operators need a ticket?
A: WHS states that persons must be adequately trained, a nationally recognised statement of attainment such as FWPHAR2206 Operate a mobile chipper mulcher would ensure approved training and assessment has been carried out.
Don't forget: chipper training and certification
The competency unit FWPHAR2206 Operate a mobile chipper/ mulcher is a nationally recognised competency unit that covers use of these machines.
Operators that are trained and certificated will have a greater understanding in the operation and maintenance of these machines and the end result will be seen in the standard of pruning and operation even regular operators can benefit greatly from training and updating their techniques.
It's really important to update your certification levels regularly over time as new techniques and standards are developed and updated fairly often. It is recommended that regular updates are carried out and documented.
All qualifications need to be maintained as current and the best way to maintain currency is to have a refresher update in the unit of competency and receive an update certificate.
Refreshers are generally carried out in a shorter time frame than a full training course consisting of an assessment and update of current skill levels which generally picks up and corrects any bad habits that may have crept in over time.
The modern world of arboriculture is a far cry from the days that we just felt lucky to be doing a job using big noisy equipment and lifting heavy things!
Making the effort and spending the time to study and achieve the relevant arboricultural qualifications will lead you on a lifelong journey in one of the most diverse industries I know and build you a skill base that you can use anywhere in the world.
To be able to work as a qualified person within the arboricultural industry, general requirements are that you will complete an apprenticeship and achieve the AHC30816 Certificate III in Arboriculture which is currently accepted as the minimum industry standard requirement to be able to be considered as a trade level qualified working arborist.
The pathway to achieve the Certificate III in Arboriculture qualification involves the completion of 23 industry endorsed units of competency that have been engineered approved and nationally mandated by industry working groups and government funded skills organisations.
Take the pathway to the Diploma of Arboriculture
Once you have achieved the Certificate III in Arboriculture or want to consolidate and recognise your industry experience, the next step is to continue to progress within the arboricultural industry and to follow the pathway from trade level / working arborist and take it to the next level by undertaking the AHC50516 Diploma of Arboriculture.
To achieve this qualification you will begin a journey that will see you develop and gain an intimate and considerable working tree knowledge, you will be educated through face-to-face training and assessment, resulting in the completion of the 10 nationally recognised industry endorsed units of competency making up the Diploma that have been engineered approved and nationally mandated by industry working groups and government funded skills organisations to ensure that achieving this qualification will enable you to operate with the highest standards with the required skills as a Business owner, lead arborist, tree officer arboricultural manager or consulting arborist in the arboricultural industry.
At TFT we believe the message is finally getting through regarding the importance of training and qualification and the benefits that it can bring to everyone including the trees.
Make an effort to take ownership of your learning both at work and in your own time. Even when you are dragging branches to the chipper you could be learning about trees. How do they look, how heavy are they? What colour is the timber what other features do you notice? A tried and tested process that we at TFT have been suggesting for several years now is proving to be so true regarding the almost everyday question we get from employers which is:
"We need a new groundie, climber or consulting arborist to join our operation."
New workers don't grow on trees unfortunately but if you want to have reliable professional staff you have to be prepared to invest in them.
The government has realised the skills shortage and the importance of our industry and there is considerable support for organisations that are investing in and training their staff.
One of the best sources for new staff, often overlooked, is that some of the best new recruits could actually come from within your company, where a current employee is encouraged and supported to step up to the plate and develop new skills while to some extent learning on the job and continuing to earn their keep at the same time.
When this process is coupled with the journey through the arboricultural Certificate III or the Diploma qualifications and you are prepared to work with your trainee and their training organisation, the outcome is a well-rounded competent and qualified staff member that is a real asset to your business.
We at TFT recommend employing as many new recruits as you are able to support but bear in mind that supervision is recommended to be one qualified worker to one apprentice.
Various incentives are available to assist employers and students that are eligible.
Training in general could tend to slow things on the work site down a little initially, although as your apprentice makes progress through the training, they will steadily begin to repay your investment in their future by becoming more useful and able to operate more efficiently within your company.
By the time they graduate they will probably go on to become your next lead climber crew leader or manager and could also be helping to train your next apprentice to keep your company evolving.
f your apprentice decides to leave and move on once they are qualified then at least you will have had some return on your investment, while they were employed with you and if you get the balance right then there will always be upcoming apprentices that will keep the cycle flowing giving you access to staff that already know your business and systems that will continue to provide a return on the investment you have made in them.
Training is as important as the servicing of vehicles and machinery. After all, workers are the machinery that you run and need to maintain to enable the smooth operation of your business.
At TFT we conduct the majority of our training and assessment at our modern training centre with access to in house trainer assessors, all the required up to date tools and equipment, local worksites and resources.
We take our students on a journey which begins with their enrolment and continues through the individual units of competency that collectively make up the qualification with regular face to face classroom sessions issuing of assignments to be completed in the workplace and working with the self-employed, persons looking for a career change and employers to ensure they are progressing efficiently and meeting their performance requirements.
We are also able to travel and deliver and assess within the workplace if required.
Training For Trees is a privately registered training organisation (RTO). We are completely independent and are not auspiced, attached to or operating under the direction or licence of any other RTO or parent company which means we are able look after our students and employers at every step of their journey and beyond.
It has been proven that independent training and assessment increases staff retention safety awareness productivity and efficiency.
Remember to schedule in regular refresher and update training sessions.
If you want to be officially classified as a qualified arborist you will need to complete the appropriate level of qualification:
AHC30816 Certificate III in Arboriculture Or
AHC50516 Diploma of Arboriculture
Safety Rules
Check out your eligibility for funding. Enrol now for the next intake Certificate III Arboriculture and Diploma. Now booking Chainsaw courses running regularly(all levels), EWP Licence, First Aid, Working at heights, Chipper, Stump grinder, Polesaw and AC/DC. Contact us for your qualifications, short courses VOC, RPL and refresher training. Train with us and leaf qualified. See our website www.trainingfortrees.com.au for details or email info@trainingfortrees.com.au