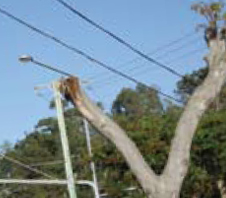 Hello all,
I trust work is still aplenty and I must say by now as I write this the winter weather is finally over spring has sprung –
the sound of revving chainsaws is echoing all around and here we go into the summer heat.
Firstly, thanks to Garry Small P/T Teacher NSW TAFE who noticed an error with one of the diagrams in my previous article on page 11. Figure 1 depicted pruning cuts and branch collars that when transposed would lead to disastrous results for anyone using the article as a guide for pruning. I have enclosed clearer detailed pictures with this article to clear up any doubts – I endeavour to ensure diagrams associated with future issues are correct.
The worrying thing is though that only one person noticed the error which would suggest there is obviously a bit of a need for this information out there?
To follow on from the basics and maintenance issues regarding powered pole saws covered last issue, this issue I will discuss basic tree and shrub pruning techniques.
On my travels around this part of the world it seems a very rare sight indeed to find evidence of correctly finished pruning cuts on completed tree jobs.
---
Operation and Pruning
Before starting any pruning works you must consider the following points.
First and foremost the tree must be taken into consideration and factors including its current form condition structure and the required outcome for the pruning works.
It is very easy to cause irreversible damage to trees through poor pruning practices.
Operators must have at least some basic arboricultural knowledge and pruning skills.
Theseskillscantakemanyyearstolearnandsometimesthebestplace to start is with the aid of a short course in basic pruning techniques followed up by plenty of supervised practice in the workplace.
Prior to starting any pruning operation be aware of any legal and environmental restraints such as tree protection legislation and avoid disturbing any nesting birds or wildlife.
Consideration must also be given to choosing the right time of year to carry out the works as some species react adversely to being pruned at the wrong times – this can also affect flower/fruit production.
Careless pruning leads to irreversible damage to the subject tree in the form of scars along the branch's coat hanger such as stubs, large flush cuts, or wrongly angled branch collar pruning cuts which prevent the correct healing process from occurring and leave the tree open to secondary infection and future problems.
---
Why prune at all?
There are numerous reasons for carrying out pruning work to trees and shrubs – some of the common ones include:
Overhanging branches causing problems with neighbours.
Statutory clearance requirements for utilities such as power and phone lines.
Satellite signal reception problems.
Overhanging or low branches that impede traffic flow lines of sight and road signs.
Re-modelling of storm damaged canopies.
Plants that have outgrown their current surroundings can be made smaller and retained as an alternative to complete removal.
Removal of dead diseased dying and dangerous wood (The 4 Ds).
Formative pruning of young trees to produce a sound structure for future growth.
Ensure you are familiar with the Australian standard AS 4373 – the pruning of amenity trees – available for purchase from Standards Australia.
---
OH&S and worksite Planning
As with all operations carried out in the workplace, it is essential to perform a risk assessment on site before any works start. The control measures should include taking note of any worksite issues, emergency procedures, surroundings, exclusion zones, public access roads, and any other issues raised during the assessment. There should be a plan of operation agreed upon and these items should be communicated to all personnel on site.
Wear the correct PPE which should consist of at least the following items:
Head ear and eye protection.
Non-snag outer clothing.
Steel capped boots with a heavy tread pattern on the sole for grip.
Chainsaw chaps or pants as applicable.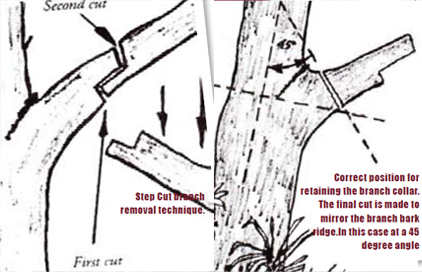 ---
Tools and equipment
When pruning tools are selected, care should be taken to ensure they are good quality, sharp hand tools such as hand saws, pole saws, secateurs, and pruning shears that have a bypass action of the blades and are selected and maintained correctly.
Always plan the sequence of operation and always consider the outcomes of your actions before cutting. As the old saying goes: 'You can always take more off but you can't put it back on!' Make sure the fi nal cuts are made to the outside edge of the branch collar.
---
Don't Forget Pruning and Certifi cation.
The competency unit RTF2017A Prune Shrubs and Small Trees is a good starting point as it covers basic pruning practices. This unit is currently available as a two day course. Operators who are trained and certifi cated will have a greater understanding of pruning operations – the end result is usually seen in the standard of pruning techniques and operations. Even regular operators can benefi t greatly from training and regular updates.
Book now for refresher training or to upgrade your skills with Training for Trees www.trainingfortrees.com.au
---
Safety Rules