Author | Peter Chaffin
This issue we look into a major review of the training packages and components which is currently underway as well as an audit on WHS White Card Certifications and everything you need to know about safety on the workplace.
---
Welcome to winter and the Easter bunny season. It's so nice to feel cooler after the record breaking days above 30 degrees. There is a lot happening in our wonderful industry at the moment. Probably the most significant change underway is a major review of training packages and components, so I hope those of you that are interested in standards of training and its outcomes managed to get a look at the new proposals and sent in any comments you felt were relevant to Skills impact.
They are the Skills service organisation that represents our industry and have been working with industry volunteers regarding this update.
Now is also a good time to be thinking about your health and safety duties which are often sadly neglected within our industry. It's not uncommon to hear about individuals attaining their WHS White Card Certification in a matter of 45 minutes online.
Most of that should now be finished with as the regulators have recently completed a massive audit process and shut down a lot of unscrupulous providers. This also resulted in the cancellation of a large number of white cards with those holders required to retrain at their expense. The requirements now are that a white card course shall run for at least a six hour face-to-face period and if done online must have extensive sections completed on camera.
We felt it is appropriate to remind everyone of their responsibilities regarding WHS. All employers and self-employed in charge of a business are deemed to be known as a Person Conducting a Business or Undertaking (PCBU).
Their primary duties required by law are to:
Provide and maintain a safe working environment
Ensure the safe use handling and storage of all plant and equipment
To provide workers with information, instruction, training and supervision that is necessary for them to be able to work safely without risks to their health
To monitor workplace conditions and ensure suitable control measures are in place to ensure workers health and safety
There is a major emphasis on a process that is required to be carried out by all persons in a workplace called "due diligence". This basically means that it is everyone's duty to carry out their work with due regard to safe operating practices. Everyone has a responsibility and the responsibility level runs both uphill and downhill from the workers back up to the business owner.
business owner. Employees and the self-employed must strive to take reasonable care that their actions do not adversely affect the health and safety of other persons. They must follow all policies and procedures of their workplace and follow all reasonable instructions from their employer.
Some common terms used in the WHS Act:
Hierarchy of risk assessment: this consists of the following steps that must be taken:
Elimination (of the hazard)
Substitution (use a safer method)
Isolation (of the hazard from people)
Engineer (work out how to make it safer)
Administrate (the process to reduce exposure)
PPE (Ensure to wear required personal protective equipment)
"It is everyone's duty to carry out their work with due regard to safe operating practices."
Hazard means a situation or things that have the potential to cause harm.
Risk means the possibility that harm might occur when exposed to a hazard.
Control measures means taking action to eliminate or minimise the risks as far as is reasonably practicable.
Penalties for non-compliance with the Work Health and Safety Act can be quite severe so you need to be able to maintain compliance and currency.
Tree owners are becoming better educated and prior to engaging a contractor are demanding to see evidence of insurances and WHS policies as well as requiring quality work to be carried out to comply with as a minimum to the requirements of relevant Australian standards and increasingly are asking to see evidence of staff qualifications, including the subject lists undertaken as well as proof of adequate safety and environmental policies.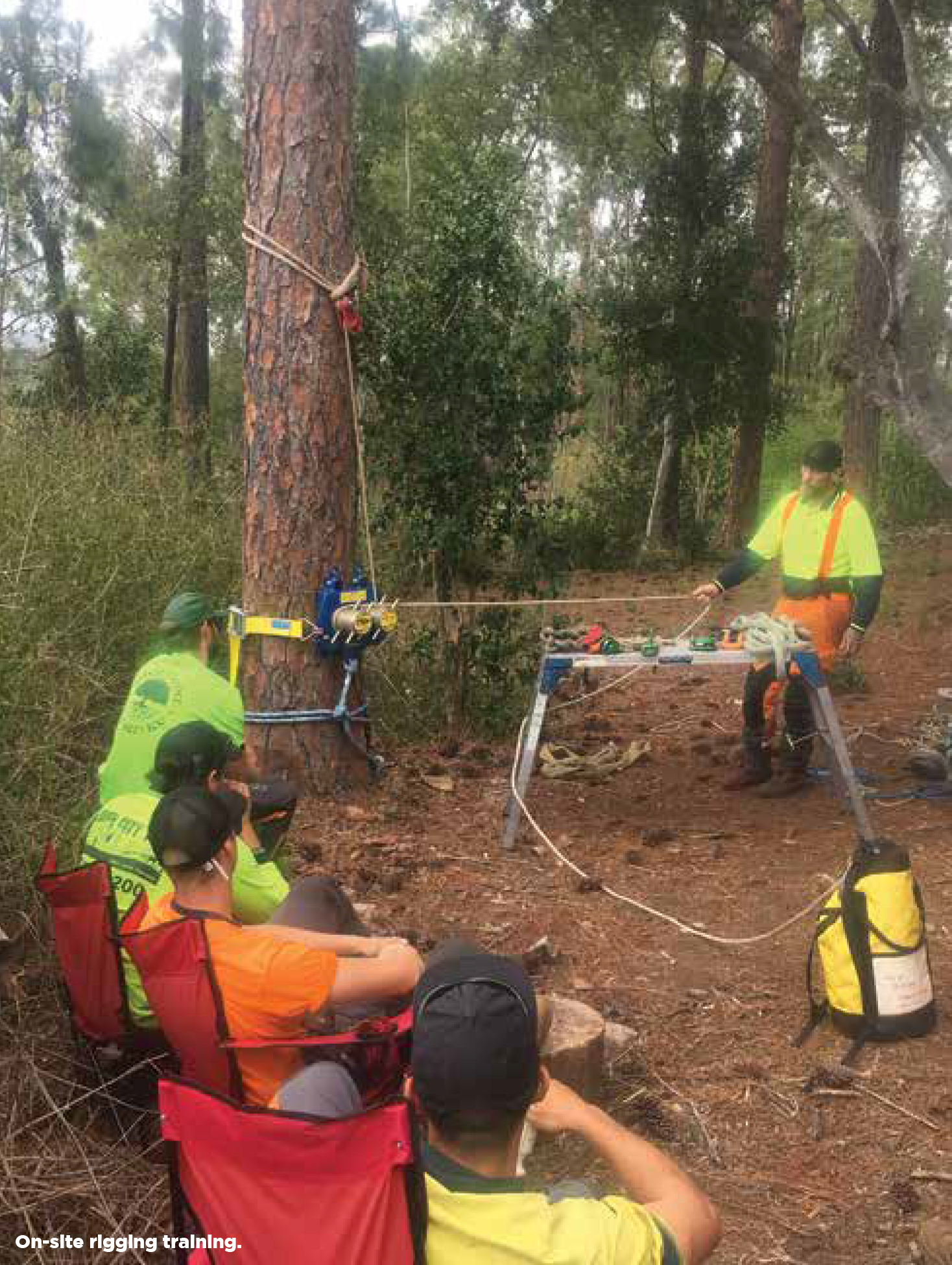 TFT – Second Graduation

At Training For Trees we are proud to be educating the latest and potentially the greatest up and coming stars of our industry who will be dedicated to providing a high class service to all things arboricultural.
"If a tree is lucky enough to be under the supervision of a TFT qualified arborist it will usually be a very happy tree indeed." We have recently seen our second graduation of successful Diploma students who have all worked hard over the past 14 months to become our second class to have completed their Diploma of Arboriculture, all earning their qualification through hard work, dedication and regular face-to-face training with in class and major workplace assignments that were completed.
To be able to work as a qualified person within the arboricultural industry general requirements are that you will complete an apprenticeship and achieve the AHC30816 Certificate III in Arboriculture which is currently accepted as the minimum industry standard requirement to be able to be considered as a trade level qualified working arborist.
The pathway to achieve this qualification involves the completion of 23 industry endorsed units of competency that have been engineered, approved and nationally mandated by industry working groups and government funded skills organisations.
Once you have achieved the Certificate III, the next step, if you wish to continue to progress within our industry, is to follow the pathway from trade level working arborist and step up to undertake the AHC50516 Diploma of Arboriculture.
"Penalties for non-compliance with the Work Health and Safety Act can be quite severe so you need to be able to maintain compliance and currency."
To achieve this qualification you will need to have a considerable working tree knowledge and complete training and assessment in 10 industry endorsed units of competency that have been engineered, approved and nationally mandated by industry working groups and government funded skills organisations to ensure that achieving this qualification will enable the graduate to operate with the required skills for consulting arborists in the arboricultural industry.
Become an arborist
At TFT we believe the message is finally getting through regarding the importance of training and qualification and the benefits that it can bring to everyone including the trees.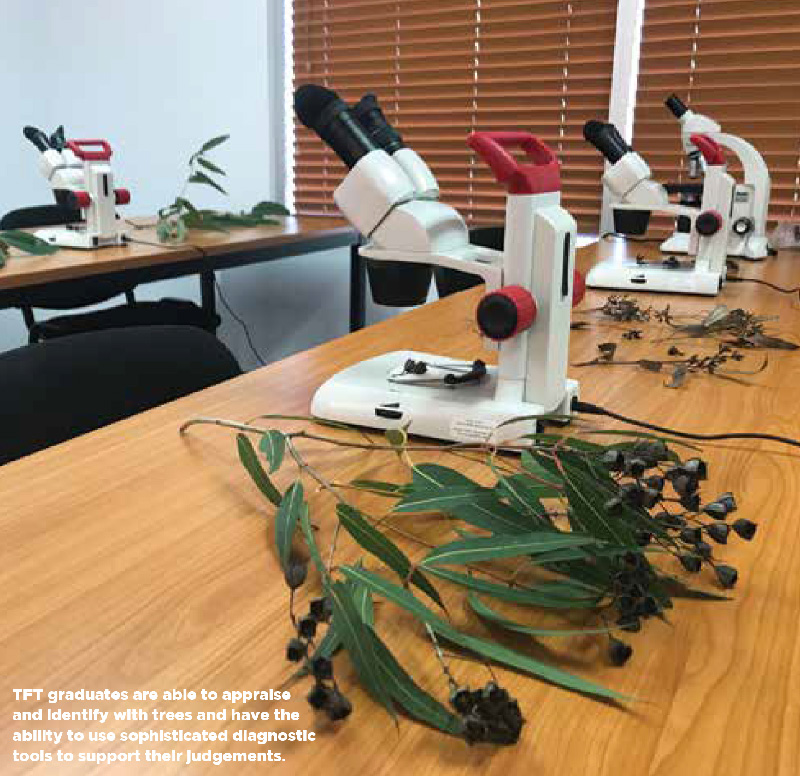 The favourite question the office gets at the moment is:
"What do I need to do to become an arborist?"
Our advice regarding entering into the arboricultural profession is to enrol in the course that best suits your needs, then commit to invest as much time learning the processes and procedures of the job as possible, ask lots of questions and make an effort to learn some tree names. Make an effort to take ownership of your learning both at work and in your own time. Even when you are dragging branches to the chipper you could be learning about trees.
How do they look, how heavy are they? What colour is the timber what other features do you notice?
A tried and tested process that we at TFT have been suggesting for several years now is proving to be so true regarding the almost everyday question we get from employers which is:
"We need a new groundie, climber or consulting arborist to join our operation."
New workers don't grow on trees unfortunately but if you want to have reliable professional staff you have to be prepared to invest in them. The process requires a level of investment both financially and in time and effort requiring, amongst other things, large amounts of support, tolerance, patience, understanding and so on.
One of the best sources for new staff often overlooked is that some of the best new recruits could actually come from within your company where a current employee is encouraged and supported to step up to the plate and develop new skills, while to some extent learning on the job and continuing to earn their keep at the same time.
When this process is coupled with the journey through the arboricultural Certificate III or the Diploma qualifications and you are prepared to work with the student and the training organisation, the outcome is a well-rounded competent and qualified staff member that is a real asset to your business.
We recommend employing as many new recruits as you are able to support but bear in mind that supervision is recommended to be one qualified worker to one apprentice. Various incentives are available to assist employers and students that are eligible.
"If a tree is lucky enough to be under the supervision of a TFT qualified arborist it will usually be a very happy tree indeed."
Training in general could tend to slow things on the work site down a little initially, although as they progress through the training process your apprentice will gradually begin to repay your investment in their future by becoming more useful and able to operate more efficiently within your company.
By the time they graduate, they will probably go on to become your next head climber, crew leader or manager and could also be helping to train the next apprentice you'll take on board to keep your company evolving.
If your apprentice decides to leave and move on once they are qualified, then at least you will have had some return on your investment while they were employed with you and, if you get the balance right, then there will always be upcoming apprentices that will keep the cycle flowing, giving you access to staff that already know your business and systems that will continue to provide a return on the investment you have made in them./p>
Training is as important as the servicing of vehicles and machinery. After all, workers are the machinery that you run and need to maintain to enable the smooth operation of your business. It has been proven that independent training and assessment increases staff retention safety awareness productivity and efficiency.
Remember to schedule in regular refresher and update training sessions. If you want to be officially classified as a qualified arborist, you will need to complete the appropriate qualification: AHC30816 Certificate III in Arboriculture or AHC50516 Diploma of Arboriculture.
Safety Rules
Check out your eligibility for funding. Enrol now for the new intake Certificate III in Arboriculture and Diploma. Now booking Chainsaw courses running regularly (all levels), EWP Licence, First Aid, Working at heights, Chipper, Stump grinder, Polesaw and AC/DC. Contact us for your Qualifications, short courses VOC, RPL and refresher training. Train with us and leaf qualified. See our website www.trainingfortrees.com.au for details or email info@trainingfortrees.com.