Unfortunately, since the time of writing the last article, we have heard of yet more serious accidents within our industry.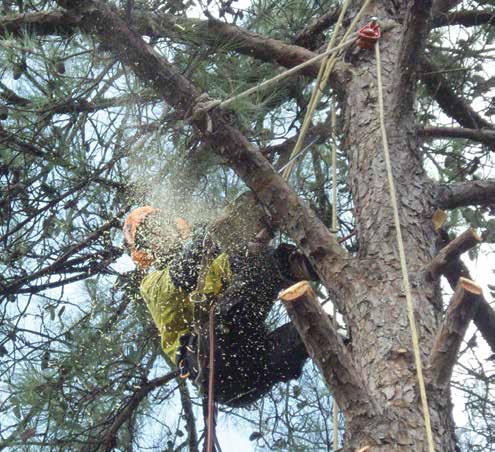 These reports continue to serve to remind us that we work within a high-risk industry. It is so important to be vigilant on site, properly plan your work as well as take the time to properly assess hazards and risks, and implement appropriate control measures.
The majority of injuries reported over the last couple of months involve damage to the left hand and arm. You have guessed it involves one of the best chainsaw designs available to this day, the top handled chainsaw.
There are well-documented operating procedures for the operation of these machines that are readily available to all users. However, there still seems to be an element of confusion about their use with a lot of arguments and uncertainty regarding correct operation and PPE requirements.
Recent enquiries through the TFT office have asked some of the questions listed below:
Is there a need to wear PPE when using such a small saw?
Why was it not ok for use trimming and cross cutting on the ground as it's so light?
What law says it can't be used on the ground?
Why it is not recommended to be used one handed?
In general manufacturers state in their machines operators manual – which is required to be made available to all operators – as to where and how these professional top handle chainsaws are to be operated. To quote an extract from one of the leading manufactures operators manual:
These chainsaws may be used only by persons trained in special cutting and working techniques and who are properly secured while working in a tree or from an EWP with an appropriate, safety harness. Normal chainsaws (with wider spaced handles) are recommended for all other cutting work at ground level.'
Saw use and work positioning within the canopy
The use of a rope and harness in tree work is all about being supported in the correct working position and you should always strive to attain the best position before you start to cut, ensuring that both handles can be held while using the saw for maximum control.
To achieve the best position it is recommended that whenever the saw is cutting and, certainly where there is a risk of uncontrolled movement such as a pendulum type swing, the climber must be secured using two anchor points both of which must be strong enough to support the full weight of the climber in the event of a fall. This can be achieved by using both ends of the climbing line, wire core flip line or an auxiliary lanyard; two separate lifeline systems could also be used.
When working, the saw should not be used above shoulder height and both hands must be on the handles, right hand to control throttle and left holding front handle.
You should be able to use the saw on both sides of your body without swapping your hands over if you adopt a good position prior to cutting relevant to the angle of the branch to be cut.
One handed use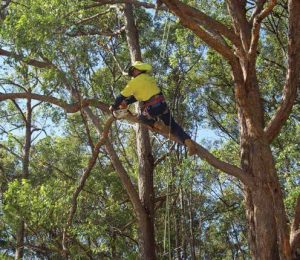 In certain circumstances it may be necessary to use the top handled saw in the tree one handed. This should only be carried out if you are working at the extremity of a branch or need to support the anchored position using the left hand, where support cannot be obtained with the climbing line and anchor points, and only if the saw can be used at full reach and at a right angle to the climber's position, with the climber positioned out of direct line of the saw in the event of a kickback.
This procedure should only be required in extreme circumstances and should not be considered as the normal mode of operation.
The increased likelihood of kickback as well as the saw skating along the limb and the swing back arc of the saw must all be considered.
This practice must not be considered as an excuse for poor work positioning and must only be used where necessary.
The saw must not be used above shoulder height.
Top handled chainsaws are often being used on the ground to fell small trees and trim and cross cut materials. More often than not they are being used one handed.
This is not what they are designed for. Even if used two handed on the ground, the operator is in a very poor position leaning over the saw, often directly in line with the bar and chain. These are powerful chainsaws that can react extremely quickly and, although not exclusively, but particularly when used one handed have been proven to cause injury from kick back.
For all ground cutting work it is important to remember that conventional chainsaws have wider spacing's between the handles which allow the operator to maintain a better grip and stance.
Don't forget to consider all the hazards and risks throughout the daily operations and to include the following points as a minimum.
Carry out a risk assessment prior to works commencing
PPE must be worn as for ground chainsaw use but helmet must have a chin strap when working above ground level
The saw must be properly maintained: chain sharp and correct tension
Safety features all present and working
Condition of lanyard attachment point secure
All nuts and bolts checked for tightness
Condition of lanyard
Take regular breaks to reduce fatigue and for re-hydration, think things through, communicate with team members. If you see something that does not look right just say something!
Penalties for non-compliance with the work health and safety act can be quite severe so you need to be able to maintain compliance and currency.
OH&S
Tree owners are becoming better educated and prior to engaging a contractor are demanding to see evidence of insurances and OHS policies as well as requiring quality work to be carried out to comply with as a minimum to the requirements of relevant Australian standards. They are also increasingly asking to see evidence of staff qualifications, including the subject lists undertaken as well as proof of adequate safety and environmental policies.
This would also be a great opportunity to start reviewing your OH&S, working practices along with policies and procedures as well as to carry out a review of your current staff qualifications training and their industry currency.
Can you demonstrate evidence of recent staff training or updating within your company?
Do you have a safety policy that includes safe work method statements, risk assessment and machinery checklists?
Have staff members attended recent courses workshops or verification of competency (VOC) sessions?
Are all qualifications certificates and licences up to date?
Relevant units of competency are classed as industry standards as they are put together with assistance and endorsement by industry so even a short course resulting in a statement of attainment is proof of compliance with industry standards.
If you are concerned with your OH&S compliance requirements we can help.
Once a unit of competency full qualification or licence has been attained, attending refresher and update days is a good way to ensure that the qualifications are kept up to date with the latest requirements which, in most cases, is the same as getting a verification of competency or VOC.
This is also an effective way to ensure that any bad habits that may have crept in are identified and rectified with further training recommended and carried out if required.
Regular refresher and update training and assessment programs to suit relevant skills as required are offered by us at Training For Trees.
A lifelong career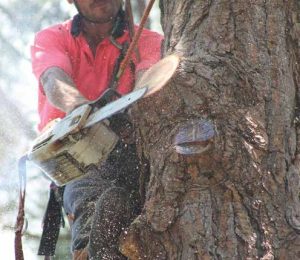 At Training For Trees we receive many enquiries asking how to become an arborist and what would be the best pathway to take.
The option that we generally recommend is based on the definition of an arborist as described in the Australian standard AS4373 pruning of amenity trees.
Certificate II in Arboriculture enables you to be classed as a general tree worker. Certificate III in arboriculture classes you as a trade level arborist.
Making the effort and spending the time to study and achieve trade level qualifications will lead you on a lifelong journey in one of the most diverse industries and enable you to build a skill base that you can use all anywhere in the world.
As far as education goes here in Australia it would seem that the sky is the limit.
We are often able to offer training and assessment that is heavily subsidised under various levels of government funding. There is also assistance with applications for Recognition of prior learning (RPL).
Some of the working arborists we meet often have little or no formal qualifications, but are experienced and have time served in the industry, which generally makes them pretty good at what they do. Therefore they are able to supply plenty of relevant evidence and complete practical skill demonstrations where required to be able to have their skills formalised into a recognised qualification along the RPL pathway.
At TFT we constantly remind our students of the bigger picture of arboriculture and the pathways that can be taken for a lifelong career and this often raises questions like "How do I become a consultant, manager or business owner?"
There is no easy answer. It generally means carrying out the hard yards, starting out at the bottom as a groundie, learning how to become part of a team dragging brushwood, carrying logs to feed the chipper and progressing to learning a few simple knots to be able to tie things on the climbers line and to develop some tree knowledge along the way.
This may not seem too glamorous as most entrants to the arb world just want to put on a harness and start swinging around in the tree using a chainsaw straight away – which is obviously not an acceptable practice without the correct training and being assessed as competent.
Take advantage of the opportunity to invest in your future and enrol into arboricultural training now.
Our advice regarding entering into the arboricultural profession is to spend as much time learning the processes and procedures of the job as possible ask lots of questions and make an effort to learn some tree names even when you are dragging branches to the chipper you could be learning about trees, "How do they smell? How heavy is the wood? Do you get splinters in your hands? What colour is the timber? Are there flowers or fruits? Why is the heartwood soft or hollow? What is in the pruning standard AS4373?"
Tree companies are generally always looking to recruit new skilled staff members. We believe that one of the best ways for a company to ensure a continuity of qualified efficient staff would be to take on at least one apprentice that is young and new to the industry, enrolling them into the Certificate II or III in arboriculture apprenticeship and mentoring them through their training. Work with the apprentice and the training organisation and encourage their development at every opportunity.
As they progress through their apprenticeship they will begin to repay your investment by becoming more useful within your company and by the time they are qualified they will go on to become your next crew leader and can start helping to train the next apprentice and so on.
If they leave and move on once qualified then at least you will have had some return on your investment and the upcoming apprentices will keep the cycle flowing giving you access to staff that know your business and systems, and providing a return on the investment you have made in them.
The current certificate III in arboriculture is able to be completed as a climber or with the aerial components completed from an EWP.
Considerable funding is available in most cases to assist both the student and the employer in its completion.
Enrolling is the easy bit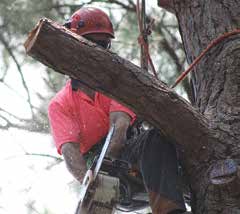 Employers, you should budget and allow for certain elements of the training to be held off site and also to be able to mentor your apprentice within the workplace.
The partnership between an employer and their training organisation is extremely beneficial to the student and essential for the successful completion of a qualification.
Consider your strategy for training and how you can keep your existing qualifications up to date.
"Everyone engaged in carrying out work with trees must be trained and qualified in their designated task and strive to maintain and improve their industry currency by continuing to gain relevant experience and qualifications".
Training is as important as the servicing of vehicles and machinery. After all, workers are the machinery that you run and need to maintain to enable smooth operation of your business. It has been proven that independent training and assessment increases staff retention safety awareness productivity and efficiency.
Remember to schedule in regular refresher and update training sessions. To be classified as an arborist or tree worker you will need to undertake AHC20513 Certificate II in arboriculture, which is a good pathway to follow towards becoming a qualified working arborist and undertake the trade level AHC30810 Certificate III in arboriculture Funding incentives currently apply to eligible applicants and their employers in QLD.
"Safety Rules"
Check out your eligibility for funding. Enrol now for Cert II and III Arboriculture. Chainsaw (all levels), EWP Licence, First Aid, Working at Heights, Chipper, Stump Grinder, Polesaw and AC/DC now booking. Contact Training For Trees for your short course RPL or refresher training needs. For details visit the new website www.trainingfortrees.com.au or email info@trainingfortrees.com.au