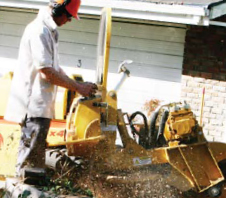 Having heard of some horrific accidents and injuries caused by these machines over the years to operators or innocent bystanders such as legs and feet getting torn apart, eye injuries, vehicle and property damage due to fl ying debris and bearing witness to some extremely abusive machine operators, I have decided to discuss some points to consider when maintaining and operating stump grinders which I hope will be of use.
My old firm was one of the first tree companies in our local town to own one of these machines which are now used by most tree companies throughout the world.
There was no training available for the machine as this particular machine was a new design and had only just started to be imported so no one really knew much about them."It's just come in from the docks mate, just take it out and use it" was the reply from the importer sensing an easy sale!
So use it we did. One broken window and two hours of sweeping up stump chips from all over the lawn later, we decided that some major training was required before we let the rest of the team loose with it.
My first thoughts were that this was a fantastic machine although most operators saw it as a machine of inconvenience because just when you feel that the job is complete, the climbing and dragging of the tree is all done, time is getting on and the stump is the only thing stopping you finishing up for the day and going home.
So the machine is unloaded from the trailer driven to the stump and then thrashed and crashed through it down to the required depth in the fastest possible time. With the job completed, it is then loaded back up and put away in the shed to be ready for the next job.
Sound familiar?
---
Maintenance is essential
Before attempting maintenance to any machine, ensure that:
The operator's manual is available
The engine is stopped, cooled down and the key is in your pocket
Any lockout pins are engaged and secure
Machine is cleaned and loose debris removed
Carry out a daily inspection to check and maintain the following items:
Ensure warning stickers are in place and undamaged
All guards and chip deflectors are secure and free of any damage
Check all nuts and bolts are present and correctly tensioned
Check machine overall for signs of stress cracking
Inspect drive belts and check tension
Grease all points as per the manual
Clean the air filter
Check engine and hydraulic oil levels
Check cooling system for leaks, clean cooling fins and top-up coolant if applicable
Check condition of cutter wheel
Inspect teeth and pockets for wear and damage
Replace blunt or damaged cutters ensuring correct tooth projection settings are used
Correct torque settings must be applied when tightening cutter pocket bolts
Clean out any debris from the cutter wheel guard
Inspect tyre condition and check pressures
Top up fuel
Wash down machine as necessary
Ensure that any necessary repairs are carried out before use
Record maintenance operations and engine hours in the service log book
So that should help out with looking after the machine. In the next issue, I will be covering basic operating procedures.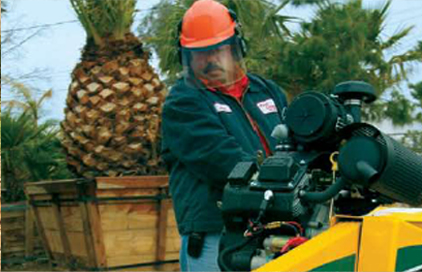 ---
"Safety rules!"
---
Q: Are there any requirements for training to operate stump grinding machines?
A: Yes, anyone carrying out a task at work must be trained and competent. A good way to demonstrate this would be to carry out training and assessment for the unit. RTF2311A – Undertake Stump Removal – Book Now for your one day course at Training For Trees: M: 04377 34836 or Email: pchaffin@bigpond.net.au