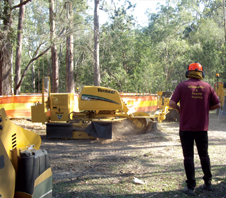 There has never been a better time to keep your qualifications up to date.
As we approach Christmas and the long summer break, I would like to thank all of you who have recently offered feedback regarding the qualification and job role update project that AgriFood Skills is currently undertaking. As a member of its advisory panel it is essential that we continue to receive industry opinion and it enables us to pass this on to our skills council.
Within the current WHS legislation there is a general obligation for persons in the workplace to act with diligence, which is a pretty open-ended term. It places obligations on everyone while they are at work, including employers, the self- employed and employees, with the general requirement to carry out their duties as responsible operators. It is also a requirement that all workers are trained in their roles and deemed competent and current in their required skills.
One way to demonstrate compliance with these requirements is to attend regular training and update sessions to maintain and improve skill levels. Regular refresher training and assessment programs to suit relevant skills are offered by Training For Trees.
Once a competency or qualification is attained, refreshers are a good way to ensure qualifications are kept up to date with the latest requirements.
This helps identify any bad habits that may have crept in and rectify them with further training.
---
Is Training Required for Stump Grinding?
A machine regularly used in the tree industry but often overlooked when it comes to training and certification is the stump grinder.
We are often asked, "Is a ticket required for a stump grinder?" Technically, if an available unit of competency relates to a particular operation or machine then it is reasonable to recommend that training and assessment is undertaken as nationally recognised proof of skills and competency.
Over the years we've heard of some horrific accidents and injuries caused by these machines with operators, or innocent bystanders, sustaining injuries. Some of the common ones include entanglement, injuries to the legs and feet, eye injuries, vehicle and property damage, and severance of underground services.
I remember back a few years ago when we received our first stump grinder. Training was not available for the machine because a pedestrian-operated machine was a new design. This particular machine had only just been imported from the US so no one really knew much about it and the local chainsaw dealer agreed to be an agent on a trial basis. "It's just come in from the docks, mate. Just take it out and use it," was the advice. So use it we did! One broken window and two hours of sweeping stump chips from all over the lawn later, we decided that some major training was required before we let the rest of the team loose with it!
While the idea of grinding a stump was a lot easier than using an excavator, or hand digging and winching, many operators didn't like the machine because it was noisy, dusty, and, unlike a lot of machines on the market today, there were no hydraulics, pivot points or radio controls to make life easy for the operator. No, this machine just required a hefty input from the shoulders to make it sweep across the stump.
It was also a machine that was abused at the end of the day, mainly due to the fact that just when you felt the job was complete, after climbing, cutting and dragging the tree, the stump was the only thing stopping you from finishing the day. So the machine got thrashed and crashed by grinding the stump down to the required depth in the fastest possible time. Once the job was completed, the machine was loaded up, taken back to base, put away in the shed and not seen again until it was on site and about to do the next job.
---
Maintenance and Operation
During operation, many injuries occur from flying debris which is often made worse by poor planning and poor preparation of the worksite and if the guards and protective rubber curtains are bent, removed or damaged. These are major items which need to be addressed during regular maintenance.
Some damage to the machine is caused by normal wear and tear along with the abrasive conditions these machines work under. But, often these issues are made worse or directly caused by untrained operators and harsh machine operation.
I have listed some points to consider when maintaining and operating stump grinders, which I hope will be of use.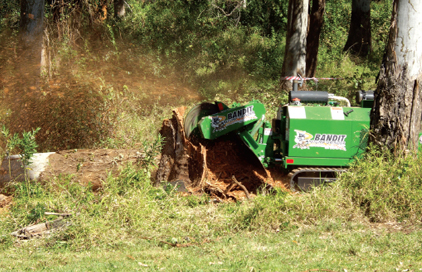 ---
Before attempting maintenance on the machine, ensure:
The operator's manual is available for reference
The engine is stopped, cooled down and the key is in your pocket
Any lockout pins are engaged and secure
The machine is cleaned and loose debris is removed
Relevant tools and equipment are available, such as a decent socket set and a torque wrench
---
Carry out daily inspections to check and maintain the following:
Warning stickers are in place and undamaged
All guards and chip deflectors are secure and free of any damage
All nuts and bolts are present and correctly tensioned
Overall machine for signs of stress cracking
Drive belts and tension
All points are greased as per the manual
Air filter is cleaned
Engine and hydraulic oil levels
Cooling system for leaks, cooling fins are cleaned and coolant is topped up, if applicable
Condition of cutter wheel
Teeth and pockets for wear and damage
Blunt or damaged cutters are replaced ensuring correct tooth projection settings are used
Correct torque settings applied when tightening cutter or pocket bolts
Debris is removed from the cutter wheel guard
Tyre condition and pressures
Fuel is topped up
Machine is washed, as necessary
Necessary repairs are carried out before use
Maintenance operations and engine hours are recorded in the service log book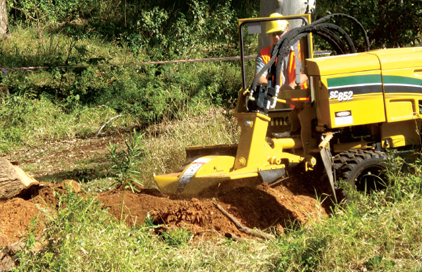 ---
During machine operation, the following should be actioned:
Carry out a risk assessment plan and organise the worksite accordingly
Set out warning signs, screens and barriers, as required
Check the proximity of buildings and obstructions and set out an exclusion zone around the work area
Flying debris can travel in excess of 15m and ricochet off solid objects, such as boundary walls and fences, so plan for the unexpected. Suitable screens should be used to contain flying debris
Check if there are any underground services present. Ask the client or look in the local phone book for the 'Dial Before You Dig' number. If the machine severs an underground service cable it could be fatal in the case of electricity and, in any case, extremely expensive to fix, especially if it is a fibre-optic network cable
Inspect the stumps being removed for any stones or metal that may be embedded and remove it prior to grinding if possible
---
Depending on the type of machine being used, check the stump grinder and pay attention to the following:
Condition and attachment of the handlebars/attachment to the vehicle/machine
Controls are all in place, clearly marked and operating correctly
Correct fitment or deployment of any stabilisers or extra width axles for the machine
All guards are in good condition, in place and secure
Fuel and oil levels
Cutting teeth are sharp, correctly tightened to their recommended torque settings, and in their required grouping at the correct clearances
Safety devices are working and, in particular, the emergency stop device or dead man's handle has not been compromised
---
When operating a stump grinder, remember the following:
When loading and unloading the machine from a truck or trailer ensure ramps are of the correct load bearing capacity and are a sufficient length to produce an acceptable angle for loading/unloading. Also ensure the ramps are securely attached to the truck or trailer
Ensure the machine can be operated on level ground that is firm enough to support its weight
Determine if the stump is on a slope (the machine manual will advise on maximum angles of operation)
Adjust handlebars or controls to suit the site conditions
Position the machine correctly at the stump and engage the cutter wheel as per manufacturer's recommendations. Increase engine revs to the correct setting
Ensure you have a good view of the cutting operation
During operation it is normally best to follow the option of "little" and "often". Trying to remove too much at once will jam the cutter wheel and put strain on the drive belts and clutch
Work the cutter wheel in an arc across the stump and try to keep the working edge of the stump vertical as this usually allows the machine to work with greater efficiency
Watch the direction of chip discharge and reposition the machine or move the screens and barriers as necessary
Clear excess chips from under the machine as excessive chip build-up will reduce efficiency
Be aware during operations for anyone entering the exclusion zone and stop work immediately if anyone breaches the area
If you notice any extra vibration or noise coming from the machine, shut it down immediately, allow all moving parts to come to a halt, remove the key and investigate the cause
When the stump is removed check to ensure you didn't miss any sections and the specified removal or depth is attained
Leave the hole backfilled and properly compacted to reduce trip hazards and minimise future erosion problems
Check the machine for damage and condition. Check the condition of the cutters and replace any that are blunt, broken or damaged. Clean off any loose debris, load the machine up and secure it for transport
If these steps are followed you should find greater operational efficiency and less downtime/damage to your investment and therefore more money on your bottom line.
---
Undertaking Stump Removal
Q: Do stump grinder operators need a ticket?
A: WHS states employers and the self-employed at work must be adequately trained in their duties.
A nationally recognised statement of attainment such as AHCARB206A Undertake stump removal is one of the ways to document that approved training and assessment has been carried out.
Operator training and certification is available through Training For Trees.
Persons that are trained and certified generally have a greater understanding of machine operations. The end result is usually less downtime and maintenance requirements and, ultimately, the reduction of accidents and injuries.
"Everyone engaged in carrying out work around trees must be trained and qualified in their designated task and strive to maintain and improve their industry currency by continuing to gain relevant experience and qualifications."
Training is as important as the servicing of vehicles and machinery, after all, workers are the machinery required to operate your business. It has been proven that independent training and assessment increases staff retention, safety, awareness, productivity and efficiency. Remember to schedule regular refresher and update training sessions.
For full trade level qualifications and apprenticeships to meet the industry standard requirement to be classified as an arborist/tree worker you will need to undertake AHC20513 Certificate II in Arboriculture which is a good pathway to follow towards becoming a qualified working arborist and undertake the AHC30810 Certificate III in Arboriculture.
Funding incentives currently apply to eligible applicants and their employers in QLD.
---
"Safety Rules!"
Enrol now for Cert II and III in Arboriculture. FIRST AID and AC/DC now booking. Contact Training For Trees for your short course RPL or refresher training needs. Visit www.trainingfortrees.com.au or email info@trainingfortrees.com.au for more details.