This month we look into Australian Standards and the industry code of practice, useful tools for anyone to refer to for risk management.
---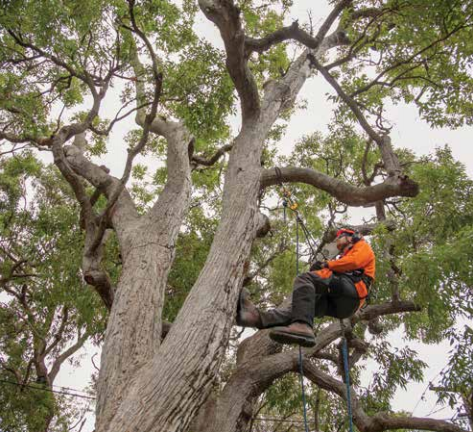 Hi to you all, how hot has summer been! Hopefully, you all survived and stayed hydrated and by now are looking at the testimonial beginning of a nice cool winter period.
In between the hectic schedule at Training For Trees the task came around to write this next article for The Australian Arbor Age magazine with a theme based around equipment maintenance so here goes.
As you will all know it is a legal requirement that any personal protective clothing, machinery, tools and equipment used in the workplace conforms to the relevant Australian Standards, is fit for purpose, in good working order and well maintained.
It is also a requirement to follow any relevant industry codes of practice.
In Australia, the general amenity arboricultural industry currently has no official general code of practice in place. Therefore it can be difficult to find guidance to ensure full compliance with workplace health and safety obligations, considering all of the operations that tree companies need to carry out during their general scope of work.
The Workplace Health and Safety Act states that even in the absence of a code of practice that there must be an appropriate system in place to manage risk and that all reasonable precautions are taken while at work and that due diligence to mitigate against risk can be demonstrated. That's just for starters, of course there is a lot more to the workplace health and safety act that must be complied with that affects all self-employed persons employers and employees.
If you are not familiar with the Workplace Health and Safety Act, I would suggest that you download a copy of the act and the regulations from the relevant government website along with any relevant codes of practice relating to machinery operation and maintenance, taking note of any specific licensing requirements for your state.
It would also be advisable to visit the Standards Australia website and obtain copies of a publication called "Guide to Managing Risks in the Tree Trimming Industry" which offers basic guidance suggestions for safe work practices.
Both the above publications are in my opinion useful tools for anyone in our industry to refer to.
A lot of equipment we need for arboricultural operations is specialised, therefore we need to use the services of specific arboricultural industry suppliers, who stock equipment approved for use here in Australia that is suitable and fit for industry needs.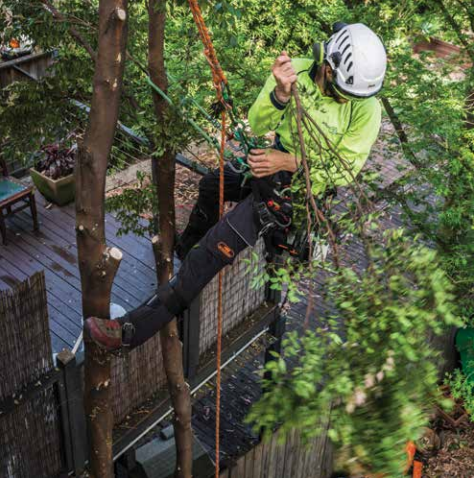 The dealer's advice along with the equipment manufacturer's recommendations and instructions should then be incorporated into your standard operating procedures work method statements and JSEA forms and that, along with employing competent operators, is highly recommended.
While undertaking recent training sessions in rigging and lowering, it has been apparent that some areas are often underestimated or misinterpreted by operators, such as the weights and loads endured by the rigging equipment and also confusion caused by some of the terminology and manufacturers recommendations regarding the capacity of their products.
Here goes with an attempt to clarify some of the above starting with the selection of appropriate and compatible equipment.
Ropes come in a multitude of type's diameters, colours, strengths etc. with ratings generally classified as having a tensile strength in kilograms or sometimes given as a Minimum Breaking Strain (MBS) or even as an Average Breaking Strain (ABS).
Friction devices, blocks pulleys and shackles are usually marked with a Safe Working Load (SWL) or Work Load Limit (WLL) sometimes depicted as tonnes or kilograms but commonly as kilonewtons (kN).
Rated slings are often colour coded and must be marked by the manufacturer with their safe working load in tonnes or kilograms on a clearly visible label attached to the product.
To confuse issues further, some products (usually the ones from America), are rated in the old pre metric system of pounds (lbs.)
So you have to select your rigging kitcomponents very carefully and remember items, such as the commonly used porta wrap for example, are rated by one of the major manufacturers as having a SWL of 2000 pounds, which converts to just over 900kg or less than one tonne.
You have some components marked with their safe working or work load limits by the manufacturer with other components only having their tensile or breaking strength listed on the invoice, with no other markings on the product.
You will then need to work out and apply a factor of safety of at least 5, but preferably 10 (10 is the safety factor for climbing gear), and that's where the confusion sets in!
There is a difference between the tensile strength/breaking strain of a rope and its safe working load. Tensile strength is determined by the manufacturer as the force required to break it, which is determined by extensive testing.
There are a lot of factors that can impact or reduce the strength of any rope. These include the types of load to be lowered that are both static and generally dynamic the tying of various knots/bends in the rope, its age, abrasion, UV exposure and the rope's previous use and care.
To factor in the above variables we use a number to reduce the actual load that is placed on the rope. This number is usually defined by industry as the standard required called the factor of safety.
The relationship between the safe working load and the rope's tensile strength is termed the Safety Factor (SF).
The method for calculating the Safe Working Load (SWL) is to divide the breaking or the tensile strength given by the manufacturer by the required factor of safety.
---
"The Workplace Health and Safety act states that even in the absence of a code of practice that there must be an appropriate system in place to manage risk."
---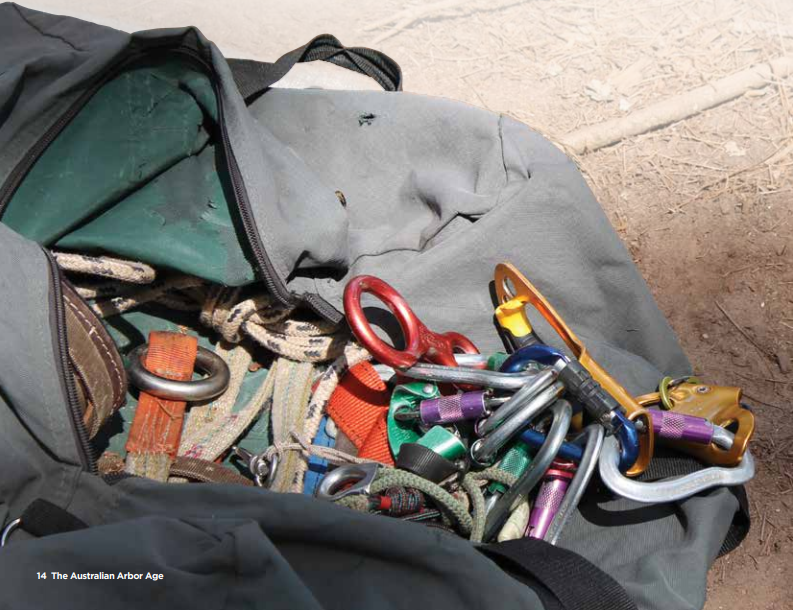 For example, if a rope is rated by the manufacturer as having a 5000kg tensile strength or MBS and we want to maintain a 10:1 safety margin, the maximum working load would be 500kg.
Items such as carabiners are usually marked in kN with their breaking strain. For example, to allow for a safety factor of 10, a 50kN carabiner will have a SWL or WLL of 500kg.
Once you have all that sorted out with your gear, then don't forget the need to look after it all, as it's not cheap to buy and can have pretty dire consequences if any of the components fail. You will need to undertake the regular checking of all rigging equipment on a daily per use basis, using visual inspection techniques and keep records of purchase dates as well as inspection and use of equipment.
Written records in the form of a simple checklist are a very effective way to keep track of items of equipment, its age safe working load limits as well as frequency of use and expected life span of the item.
I am concerned to be coming across items of equipment that are in everyday use, such as pulleys that are stretched and damaged ropes that are nicked, worn carabiners that are deformed from overloading, slings that are not compatible with the system, well past their sell by date, not fit for purpose or badly worn and damaged.
In Europe the arboricultural industry is regulated under a system that is pretty much the same crane operators are required to follow.
In a nutshell, this system calls for mandatory marking of equipment for identification purposes, with daily and weekly checks recorded. A thorough inspection must be carried out every six months on climbing gear and every twelve months on all rigging and lowering equipment by an independent qualified assessor.
Textile items such as harness and webbing slings generally are considered to have a life span of five years with normal use, although some manufacturers are now marking such items with life spans of up to ten years, depending on frequency of use and storage conditions.
Ropes are high wear items and require more frequent inspection and replacement.
When carrying out kit inspections check all items for wear and tear, paying particular attention to the following checklist.
Ropes and textile items:
Cuts and abrasions
Burns or melting
Age
Chemical contamination
Textile items can lose their strength over time and manufacturers normally attach labels that indicate their life span.
Metal Items:
Corrosion
Cuts
Abrasion
Cracks/Chips
Deformation
Age
Chemical damage
Safety tips
Never try to straighten any piece of equipment that has been
bent or distorted.
Check for sharp edges on friction devices rigging plate's blocks and pulleys which can indicate impact damage and lead to cracks or cause rope damage.
As a rule of thumb normal abrasion on metal items should not exceed 10% of the items surface area.
Follow manufacturer's recommendations for proper care and maintenance,
Do not store wet equipment in an enclosed space it must be allowed to dry naturally.
Ensure that correct safe working load limits are adhered to.
Any items subjected to a heavy shock loading or impact must be carefully checked and if the SWL has been exceeded they should be discarded.
Keep written records of inspections and age of equipment.
Label all equipment using suitable tags in areas away from load bearing areas so that it can be easily identified.
Ensure all equipment is compliant with relevant standards and fit for purpose.
At Training For Trees we have capacity to carry out equipment identification and inspection systems if required we also demonstrate and factor these methods into our courses.
Training and qualifications
At TFT we believe the message is finally getting through regarding the importance of training and qualification and the benefits that it can bring to everyone including the trees.
TFT Office is often asked the question "How do I get to be an arborist?"
Our advice regarding entering into the arboricultural profession is to enrol in the course that best suits your needs, then commit to invest as much time learning the processes and procedures of the job as possible, ask lots of questions and make an effort to learn some tree names.
Make an effort to take ownership of your learning, both at work and in your own time. Even when you are dragging branches to the chipper you could be learning about trees.
How do they smell? How heavy is the wood? Do you get splinters in your hands? What colour is the timber? Are there flowers or fruits? Why is the heartwood soft or hollow? What is in the pruning standard AS4373?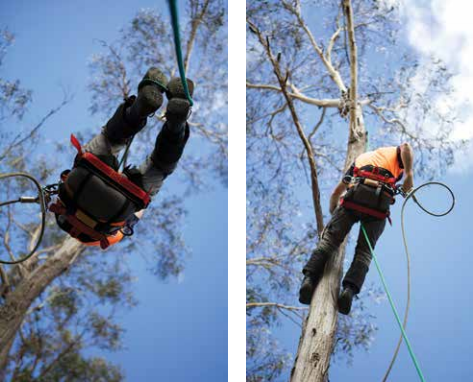 At TFT we take our students on a journey through the individual units of competency that collectively make up the qualification with regular face to face classroom sessions as well as issuing assignments to be completed in the workplace as well as liaising with employers to ensure their apprentice is meeting their requirement.
Employers
Employers, you should budget and allow for certain elements of the training to be held off site and also be prepare to mentor your apprentice within the workplace.
The partnership between an employer and their training organisation is extremely beneficial to the student and essential for the successful completion of a qualification.
Can you demonstrate evidence of recent staff training or updating within your company?
Do you have a safety policy that includes safe work method statements, risk assessment and machinery checklists?
li>Have staff members attended recent courses workshops or verification of competency (VOC) sessions?
Are all qualifications certificates and licenses up to date?
Once a unit of competency, full qualification or licence has been attained, attending regular refresher and update days is a good way to ensure that the qualifications are kept up to date with the latest requirements in some cases this is a mandatory requirement and in most cases is the same as getting a verification of competency or VOC.
This is also an effective way to ensure that any bad habits that may have crept in are identified and rectified, with further training recommended and carried out if required.
Regular VOC refresher and update training and assessment programs to suit relevant skills as required are offered at Training For Trees.
Tree companies are generally always looking to recruit new skilled staff members and it would seem that particularly climbers are required.
It would seem that there is a shortage of qualified operators, so we believe that one of the best ways for a company to ensure a continuity of qualified efficient staff would be to consider taking on at least one apprentice that is young and new to the industry, enrolling them into the Certificate III in Arboriculture apprenticeship program and take the time to mentor them through their training.
As they progress through their apprenticeship they will begin to repay your investment by becoming more useful within your company and by the time they are qualified they will go on to become your next climber or crew leader and can maybe start helping to train the next apprentice and so on.
If they leave and move on once qualified, then at least you will have had some return on your investment and the upcoming apprentices will keep the cycle flowing, giving you access to staff that know your business and systems and providing a return on the investment you have made in them.
Consider your strategy for training and how you can keep your existing qualifications up to date.
"Everyone engaged in carrying out work with trees must be trained and qualified in their designated task and strive to maintain and improve their industry currency by continuing to gain relevant experience and qualifications".
Training is as important as the servicing of vehicles and machinery. After all, workers are the machinery that you run and need to maintain to enable the smooth operation of your business.
It has been proven that independent training and assessment increases staff retention safety awareness productivity and efficiency.
Remember to schedule in regular refresher and update training sessions
To be officially classified as an arborist, you will need to complete the qualification AHC30816 Certificate III in Arboriculture
Funding incentives currently apply to eligible applicants and their employers in QLD.
Safety Rules
Enrolments open for Diploma in Arboriculture. Check out your eligibility for funding. Enrol now for the new intake Certificate III Arboriculture. Now booking Chainsaw courses running regularly (all levels), EWP Licence, First Aid, Working at heights, Chipper Stump grinder Polesaw and AC/DC. Contact us for your qualifications, short courses VOC, RPL& refresher training needs. Train with us and leaf qualified. For details see our website www.trainingfortrees.com.au or email info@trainingfortrees.com.au