Let's have a fresh start of 2017 and focus on improving safety, implementing zero harm policies, investing on training and skills assessment.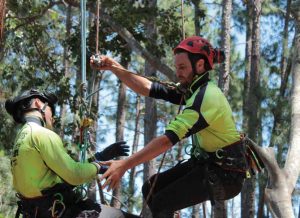 We are already well into 2017 and the future for Arboriculture in Australia is looking good. The new training package that has involved considerable efforts from many dedicated people is ready to roll out and can only mean good things for our wonderful industry.
I have been involved with the industry advisory group that is managing the process of updating the industry training package for several years now and have to say I am excited to be involved. It really is a case of onwards and upwards.
At Training for Trees we are committed to encouraging safe work practices and standards and have a close allegiance with QLD Workplace Health and Safety who often seek our assistance with their tree related investigations in an independent advisory capacity.
Most of the incidents we were asked to advise on in 2016 could have been avoided. There was a lack of training certification and planning that was evident and it is so very sad to think that people have lost their lives or been seriously injured due to circumstances that should have been foreseeable and preventable without being unreasonable.
It saddens me immensely to hear about harm and fatalities within our industry. Please, take note and work towards a true zero harm policy. I can only sincerely hope that some of the things mentioned in this article will assist towards that outcome.
Remember that anyone who is self-employed is deemed to be in charge of a business and under the legislation contained within the Workplace Health and Safety Act will be referred to as a PCBU which is short for Person in Charge of a Business or Undertaking.
Some of your many duties will include understanding and complying with this act of law and you will note that you have a legal obligation to carry out the following duties as a minimum regarding employees and training:
Provide and maintain a safe working environment
Ensure the safe use handling and storage of all plant and equipment
Provide workers with information, instruction, training and supervision that is necessary for them to be able to work safely without risks to their health
Monitor workplace conditions and ensure suitable control measures are in place to ensure workers health and safety
---
A machinery checklist should not just be a tick, flick and forget. It should be referred to and used as part of the toolkit.
---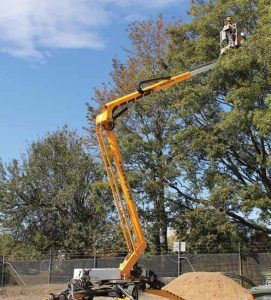 It would also be a good idea to hold regular toolbox talks and remind your workers that they also have obligations under this act.
They should be aware that they have to take on a certain amount of responsibility for their own actions as follows. Everyone must undertake their workplace tasks using a process called "Due diligence".
This basically means that it is everyone's duty to carry out their work with due regard to safe operating practices. (Remember common sense is not legally recognised!). Workers must take reasonable care that their actions do not affect the health and safety of themselves or other persons.
They must follow all policies and procedures of their workplace.
All procedures must be followed, such as:
Wearing PPE
Completing documentation, such as checklists and JSEA
Using equipment correctly
Looking out for others
Keeping vigilant on the worksite
Maintaining exclusion zones as recommended
Not to carry out tasks they are not trained to do
Working within their capabilities
Not taking unnecessary risks
Reporting and tagging out faulty equipment
Reporting dangerous occurrences or near misses in the workplace is essential so that information can be shared if needed.
A near miss is where something happens or fails, which could have caused injury. It should be reported to WHS as the next time that particular machine procedure or product fails, it could result in causing serious harm or a fatality.
These things can be reported anonymously if preferred and will not usually trigger a "visit" from an inspector unless requested. If near miss incidents are reported and any common threads are noted, then industry safety alerts can be published.
Working in Arboriculture involves many potential hazards and risks. Working with heights weights and loads, and using powerful machinery are everyday occurrences.
These operations require training, planning, vigilance and essential operational organisation.
Risk assessment SWMS pre-start and machine checklists are essential parts of the planning pre-start and operational stages.
All staff need to be aware of the requirements of the SWMS and not just look at the front cover and "sign here" when asked.
A machinery checklist should not just be a tick, flick and forget. It should be referred to and used as part of the toolkit. It should be used in conjunction with SWMS risk assessment and valued as part of the everyday operational features.
Everyone in this industry can contribute towards health and safety and wellbeing of their mates by looking out for each other.
---
"If you undertake the trade level Certificate III in Arboriculture, then you are able to be classed as trade level arborist in charge of crews and able to work independently."
---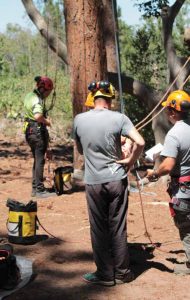 At TFT we encourage our students to be team players and be inclusive of all on site. We believe that everyone should have an input towards safety. Basically, if anyone thinks or sees something that is not right they must do something about it and ask the question or sound a warning, even if they are not sure, it's better to be safe than sorry.
Now you are able to undertake and qualify as an arborist with the trade level Certificate III in Arboriculture with the option of choosing different streams and still be able to be officially recognised as an arborist.
The options are the following:
Ground based arborist
EWP arborist
Climbing arborist
These specialisations will allow individuals to choose the right pathway to be able to qualify in the Certificate III at a trade level specialisation to suit their needs wherever they wish to operate within our diverse industry.
As the industry continues to gain recognition the TFT office is often asked about the best pathway to take regarding becoming a qualified arborist.
The option that we generally recommend is based on the definition of an arborist as described in the Australian Standard AS4373 Pruning of Amenity Trees.
If you undertake the trade level Certificate III in Arboriculture, then you are able to be classed as trade level arborist in charge of crews and able to work independently
Employees
You should think about attending arboricultural events such as workshops, trade shows and climbing competitions, frequent your local supplier, don't just learn by watching demonstrations on YouTube and solely relying on advice from your old mate Google. Go to the shows, walk into the shops, see the gear for real and talk with the experts!
Combine this knowledge of which some can be learned in your own time and therest by embarking on an apprenticeship such as the AHC30810 Certificate III in Arboriculture and begin your career in the wonderfully diverse world of trees.
Take some ownership over your future career, spend the time, be excited and look forward to the challenges and potentially substantial rewards.
Before you enrol into a course you should consider which area of our wonderfully diverse industry suits you the best, then commit to invest as much time learning the processes and procedures of the job as possible, ask lots of questions and make an effort to learn some tree names. Even when you are dragging branches to the chipper you could be learning about trees, How do they smell? How heavy is the wood? Do you get splinters in your hands? What colour is the timber? Are there flowers or fruits? Why is the heartwood soft or hollow? What is in the pruning standard AS4373?
Employers
Penalties for non-compliance with the Work Health and Safety Act can be quite severe so how can you maintain compliance and currency?
Can you demonstrate evidence of recent staff training or updating within your company?
Do you have a safety policy that includes safe work method statements, risk assessment and machinery checklists?
Have staff members attended recent courses, workshops or verification of competency (VOC) sessions?
Are all qualifications certificates and licences up to date?
---
It has been proven that independent training and assessment increases staff retention, safety awareness, productivity and efficiency."
---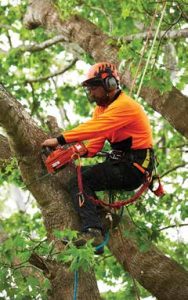 Once a unit of competency, full qualification or licence has been attained, attending refresher and update days is a good way to ensure that the qualifications are kept up to date with the latest requirements which in most cases is the same as getting a verification of competency or VOC.
This is also an effective way to ensure that any bad habits that may have crept in are identified and rectified with further training recommended and carried out if required.
Regular VOC refresher and update training and assessment programs to suit relevant skills as required are offered at Training For Trees.
Tree companies are generally always looking to recruit new climbers and skilled staff members. There is a shortage and we believe that one of the best ways for a company to ensure a continuity of qualified, efficient staff would be to consider taking on at least one apprentice that is young and new to the industry, enrolling them into the Certificate III in Arboriculture apprenticeship and mentoring them through their training.
Work with the apprentice and the training organisation and encourage their development at every opportunity. As they progress through their apprenticeship they will begin to repay your investment by becoming more useful within your company and by the time they are qualified they will go on to become your next crew leader and can start helping to train the next apprentice and so on.
If they leave and move on once qualified, then at least you will have had some return on your investment and the upcoming apprentices will keep the cycle flowing, giving you access to staff that know your business and systems and providing a return on the investment you have made in them.
Consider your strategy for training and how you can keep your existing qualifications up to date.
"Everyone engaged in carrying out work with trees must be trained and qualified in their designated task and strive to maintain and improve their industry currency by continuing to gain relevant experience and qualifications."
Training is as important as the servicing of vehicles and machinery. After all, workers are the machinery that you run and need to maintain to enable smooth operation of your business.
It has been proven that independent training and assessment increases staff retention, safety awareness, productivity and efficiency.
Remember to schedule in regular refresher and update training sessions.
To be classified as a trade level qualified arborist you will need to undertake the relevant stream of the AHC30816 Certificate III in Arboriculture. Funding incentives currently apply to eligible applicants and their employers in QLD.
---
"Safety Rules"
Check out your eligibility for funding. Enrol now for Certificate II and III Arboriculture. Chainsaw (All levels), EWP Licence, First Aid, Working at heights, Chipper, Stump Grinder, Polesaw and AC/DC now booking. Contact Training For Trees for your qualifications, short courses VOC, RPL and refresher training needs. Train with us and "leaf" qualified. For details visit www.trainingfortrees.com.au or email info@trainingfortrees.com.au